I think this is an edge case but it just happened to me and I want to understand if it's really an edge case and/or if I should create a custom rule to handle arming my Hubitat (HSM).
Today, I have Mode Manager app setup to change modes based on time - and also to go 'away' when my phone leaves geofence.
Basically - I want the system to be armed at night and whenever my phone is away.. I'm guessing this is a pretty standard setup: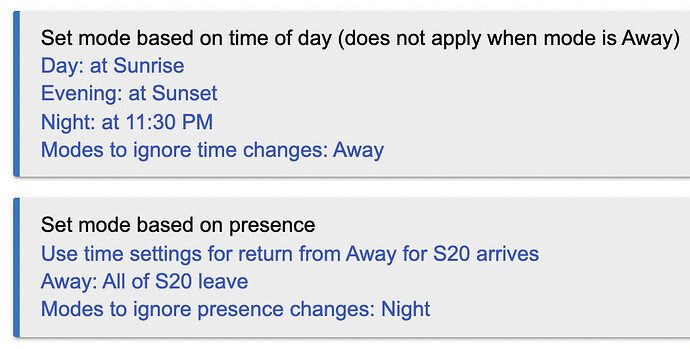 I also have HSM set to arm-away when mode is away and arm-home when mode is night. It'll disarm when the mode changes to day/evening:

However, what happened last week is - we decided to leave on our road trip very early in the morning - 5:30 AM. I think what happened here is my phone's presence change was ignored because I have mode manager set to ignore presence changes at night.


I suppose that makes sense if I have to leave the house and return at night.. I don't want to disarm the system when I return. But, in our case the mode changed to 'Day' in the morning and HSM disarmed.
I noticed this the next day and was able to use an app to change HSM back to 'armed-away' -- but every morning HSM was automatically disarmed again.
Again, maybe this isn't a normal case to worry about but I'm wondering if I'd be better served creating a rule to arm and disarm HSM -- and it would always take into account the phone's presence before automatically disarming the system.
Is this something anyone else has thought about? I would appreciate seeing the rule you created if so because I'm not great at creating rules.. would it be 2 rules - 1 to auto arm and 1 to auto disarm?
thanks
joe