Hi, I've been playing with setting the colors of an RGB light using the MakerAPI using an Android app.
What I can't quite figure out is -- is the "L" in HSL the same as the brightness level of a dimmable light? I see it's defined as "lightness" --is that the same thing?
In many color pickers there's 3 sliders - one for each of the HSL values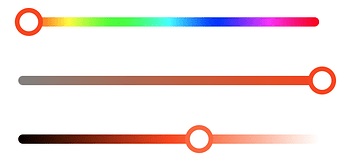 But, moving the L value (the bottom slider) all the way to 100 produces WHITE.
However, it does appear that passing 100 to the setColor command produces full brightness and not a WHITE light.. it just seems a little confusing to me as I'm trying to allow users to adjust both the color and the brightness of the light.
GET http://192.168.0.202/apps/api/38/devices/130/setColor/[hue:4,saturation:100,level:100]