Hello! Just started with Hubitat yesterday.
I have some RGBW light strips that work with Magic Home. With the help of this driver...
https://raw.githubusercontent.com/adamkempenich/hubitat/master/Drivers/MagicHome/MagicHome%20Wifi%20—%20Controller%20(RGBW).groovy
I managed to get my strips working in the Devices tab. They turn on/off. I can control the color and color brightness with the SetColor and SetLevel commands, and I can control the warm white level/dimness with the SetWhiteLevel command. Here's what that page looks like...
However, I cannot get them to work with the Groups and Scenes app properly, specifically the white level.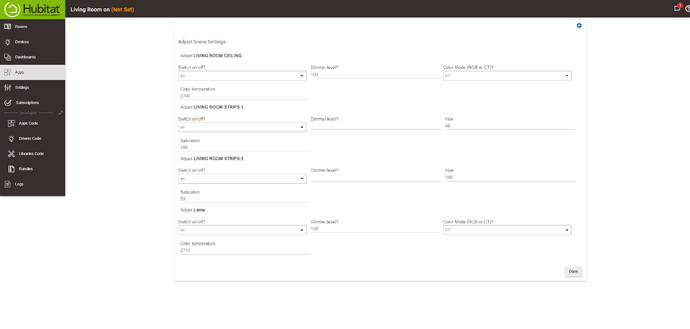 As you can see, with LIVING ROOM STRIPS 1 and 2, I can save the state of the color. The Dimmer Level is only for the RGB, not the warm white lights in the strips.
The Magic Home driver was from
I wonder if I should post on that thread since it's been active for a few years. Anyone have any ideas? Is there something in the driver I can add to get this to work?