I haven't added anything device-wise or app wise to my Hub in quite some time. I have 4 RadioRa2 thermostats in my home and everything was working fine with connecting them to my C7 for months, but recently, they have basically become "read-only" devices. What I mean is, when I make a change at a thermostat or in the Lutron Connect app, all of the values properly show up in my Hub Dashboard/Devices. However, if I make a change in the dashboard or on the Hub device page or in Alexa, they don't get sent to my RadioRa2 system. Here are a couple of logs: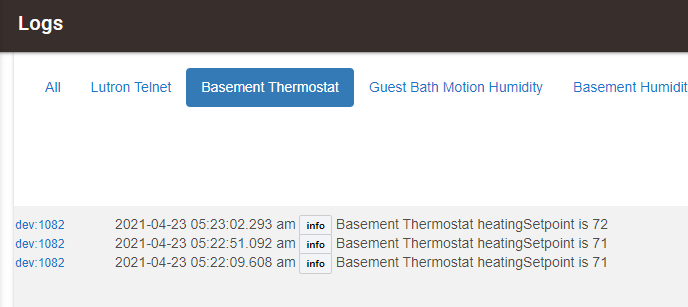 The above were setting the temperature in Alexa, Dashboard, and on the device page, respectively.
These are the Lutron Telnet logs from the same time, you can see that when I changed the temperature in Lutron Connect, it was received, but nothing was ever sent for the above commands. Any thoughts? I'm running 2.2.6.140

I should note that everything is working normally with all of my other Lutron stuff (lights, shades, etc.).