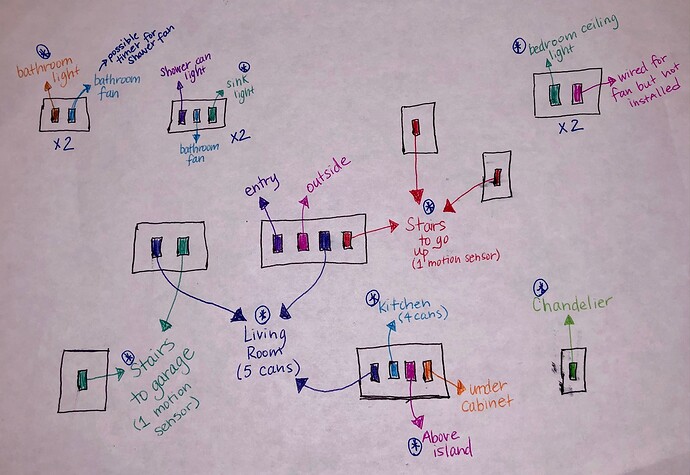 Needing some help and advice! I have my Hubitat setup and I purchased the Lutron SmartBridge Pro2 (L-BDGPRO2) which should be delivered today. I've been reading on this site, reddit, and everywhere in between and I'm a little overwhelmed on what I need to buy/replace to get everything setup. The picture shows the switch layout of what I have. The ones with a star are ones that I want on a dimmer. The others I don't care as much about. This is new construction.
I have Alexa setup but nothing connected to it to control yet. Ring security. Sonos sound. Not sure if any of that matters.
Do I need to replace all of the switches in each group? Some of them I don't care about being on a dimmer or timer but I wasn't sure if I could have a "dumb switch, dumb switch, Lutron, Lutron" in a 4 gang setup (middle of the picture as an example). Or for the bedroom…having 1 Lurton for the light to dim but the other dumb switch doesn't do anything (no ceiling fan installed).
a. If you can have a combo of dumb and Lutron switches, where is a good place to buy wall plate replacements? I can only find ones where all of the switches would be Lutron (CW-2, CW-3, CW-4).
b. If I can't have a combo of dumb and Lutron, is the PD-6ANS the best to get regardless of amps etc for the basic on/off that I need?
I know for the multi-pole location (ex: stairs going up and down, living room) I need to have 1 in-wall dimmer and 2 Picos at the other location. Does it matter which location I install the in-wall dimmer vs the Picos?
I do want a motion sensor in each stair case so the lights come on automatically and go off after X amount of seconds with no movement. Any suggestions on the sensor?
Any suggestion on smart plugs for lamps? I would like to use Picos to control them as well.
Any suggestion on bathroom fan timers?
I'm sure I'm missing a ton or haven't thought about other options so I'm open to any suggestions! If there are specific models I should look at, please add those as well. I've read to buy the dimmers with Picos so you have extra Picos for lamps, etc. Thank you in advance!