Any idea what I'm missing here? The iotawatt gets polled every 30 seconds and basically I get a notification that it is defrosting, then 30s later that it's done (it's not), then 30s later that it started again, then 30s later that it's done until it truly is done.
The IoTaWatt is an electricity monitor and I'm using a community driver that exposes the the various inputs/outputs but the input 5 I am using is the channel monitoring the air handler of my heat pump. That thing pulls 115-250w depending which speed the fan is in UNLESS the outside unit is defrosting in which case the outside unit calls for the aux heat which is currently 10kW of electric heat strips. So that's why my threshold is just 500+ watts, In reality anything over about 260, but whatever...
If it's not obvious I wanted to trigger one notification when it started >500w and then another when it went back down below 500 but I get the ping-pong back and forth until it's done.
Anyway, here's the rule: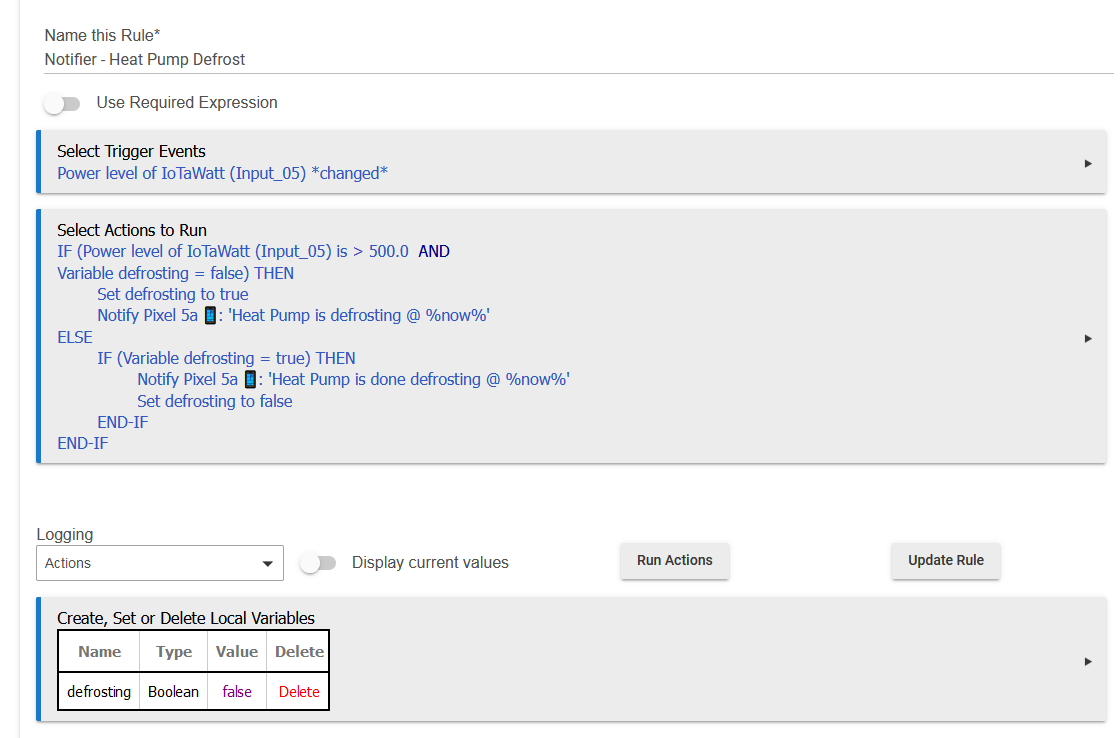 The power does NOT drop below 500w while it's defrosting (it's ~10250 watts total). I assume I'm missing something really stupid here.
I technically don't need the rule anymore because I decided to just disconnect the W wire from the outside unit to the air handler so it won't kick on the aux heat when it's defrosting (personal choice, I know that means it blows cold for a few mins) since I wrote the rule but for future reference I'm just curious what I did wrong.