I have several doors and windows that open out to our pool. Code requires that these be alarmed to notify if someone is entering the pool area unattended. It's easy enough to build an HSM Custom Alert to monitor these, but this will be disabled whenever there are (adults) present in the pool area. When I go to be at night (and at other times during the day), I'd like to do a quick check to verify that all the doors and windows are closed. So, I've created a virtual switch that I can ask Alexa to turn on ("Alexa, are all the pool doors and windows closed?"), which runs a Rule (triggered by the switch) that checks all of the doors & windows, and then (using Echo Speaks) tells me which windows/doors are still open (if any).
The code at present is: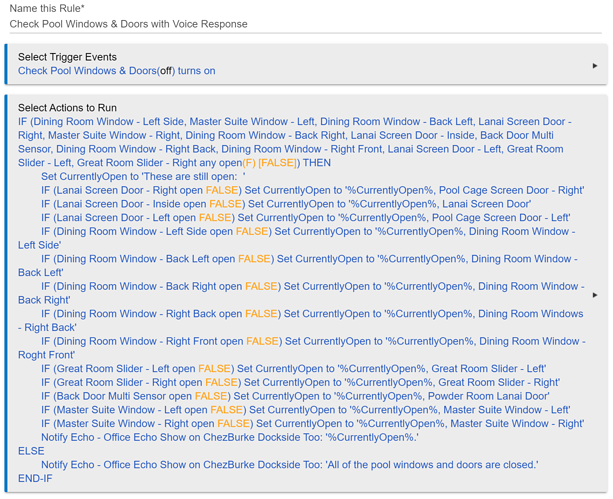 It would be so much easier/cleaner if I could simply set a Variable to the Names of the device(s) are are open, either as a list, or as a string concatenated with ", " between each device.
Does any such capability exist in RM, or do I have to go the custom Groovy app to accomplish this?
[edit]
Or, is there another way to accomplish this in a simpler fashion? Because next I want an open check for ALL the exterior doors and windows, and that's more than 25 different contact sensors plus 3 locks...
[/edit]
TIA!