Not sure if this has been reported but maybe good news for Insteon users.
It still doesn't really tell us who the people are and confirm the security of their fellow users... But I am on principle in favor of user action lol.
The real question is will they have the capital / revenue stream to keep the lights on and then keep the platform up to date. It's a big endeavor and once a customer base has been "spooked" by the company going under and then coming back, along with the loss of service, the reputation is hard to get back.
But then on the other side of the coin, some people are attracted and inspired by a user-run takeover so it might gather momentum
The issue will be money. If they just want to maintain the servers they'll have to start going the route of Wink and start charging a monthly fee to cover that. If they're going to continue to sell hardware, that too may be an issue. I mean, last I looked, an insteon light switch was $70.00 US (56.27 Pound sterling). That's quite expensive when you can have quality zigbee/z-wave switches for under $40 or even Lutron Caseta for $50.00. I wish them luck though...
This certainly sounds like a story-book feel-good win (users rescue service), but I don't see a happy ending here in the long term,
Users should be grateful for this reprieve keeping the lights on (pun intended), but if I was an Insteon user, this would not slow down my quest to find a replacement.
Maybe they can keep it alive long enough to put out an update that doesn't require the hubs to call home making the majority of it local. (@SmartHomePrimer probably has a better idea if that could be done or not)
It's actually already local. The only thing they cannot do local is set schedules and create scenes in the hub without contacting the server.
The problem with the Hub2 was memory and processing capacity. It was a redesign to add secure cloud connections via WolfSSL after the original hub exploit was demonstrated at a black hat conference. There's just enough in there for the added security, and not much room for anything else. The best thing they could do is move forward with the Nokia product, but who knows what they have planned.

Yeah I wasn't sure. I'm not that familiar with the architecture of the insteon.
There's just not enough capacity to run a server on the v2 hub so app access without cloud is an unlikely scenario without a new hub version. The HomeKit version was the first HomeKit hub to market, but it was a disaster from what I've heard. They need to move forward with a modern hub to keep interest alive. The dimmers are actually pretty darn good with nice features and still hold their own against many of the available competing protocols, but that won't last. They need to modernize the product.
If I were to advise them, it would be to just charge for cloud access and get what they can out of the remaining user base.
IMHO, all the Insteon switches/dimmers/sensors/etc are pretty darn good. I'd take Insteon's dual-mesh over anything ZWave, ZigBee, WiFi in a heartbeat. In general Insteon always "just worked" compared to the nonsense of trying to get a ZWave device not to route in the dumbest way possible... Insteon also always had hubless device-to-device without any issues at all.
If I had like 2 or 3 spare PLMs, I'd probably continue to use Insteon for many years...but since I have exactly 1 and no spare, it's untenable to continue.
Happy to see the user group try to keep it alive somewhat, but it's still a dead end...it feels excessively unlikely they'll ever actually deliver another piece of hardware. Restoring the cloud stuff and getting the apps back on the mobile stores is the equivalent of driving to Home Depot when you decide to build a house.
The sensors are marginal. Much better technology out there now. The dimmers are really good, but I would like to see the ability to smooth dim in an updated product. They handle that in the device hardware right now, so setting a desired level always has to be sent and then executed on the device.
Yeeaaahhh.... interesting. Well all my Insteon devices are in a box in my basement.
While the Insteon network was/is very reliable and fast (for plug in devices) configuring the system is not as easy as HE and too limited.
The sensors were not that good. Could never rely on a door contact to notify me in a timely manner if at all.
Not that impressed with their software/app.
Too late... I'm completely switched over to Zigbee and HE.
That didn't take long. Smart move on their part. $39.95 for a year access and $69.95 for two years. It's reasonably priced, and I think most non-technical users will probably bite if they haven't already moved on.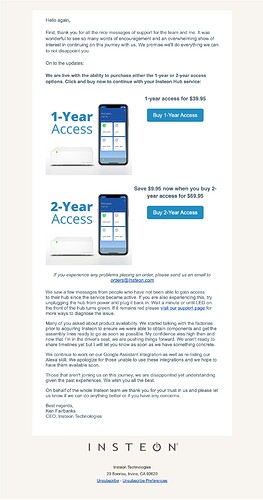 Or they'll get angry like Wink users did
Oh I'm certain someone will blow a gasket, but they didn't do any bait and switch here. New owners, never promised free. It's all on the table. My opinion is this has been executed about as cleanly by the new owners as it could have possibly been.
Agreed. The couple Insteon owners I know are happy to be operational again.
The only thing I might have thought of doing differently is let the community know via reddit or something what was being planned so that fewer people would have hurried off for other solutions. Word would probably have spread quickly. But of course I don't know if the takeover was too sensitive business wise and might have been wrecked if they said anything too soon.