Hi,
Can anyone tell me the difference between the two "disable local control" settings in the Inovelli device settings?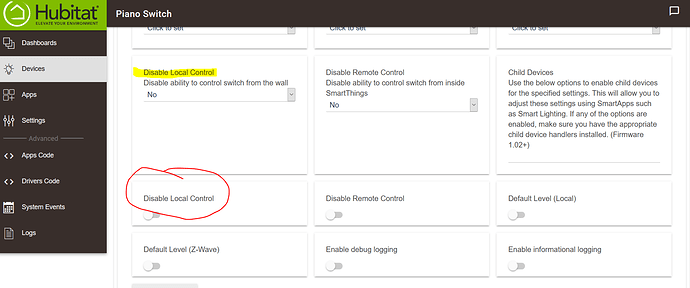 The toggle switch will create a child device that will allow you to control the setting externally in something like Rule Machine.
@jwhite175 -- this is the correct answer (thanks @daweeze!)
For example, if you wanted to disable local control between the hours of 10pm and 6am, you would create a child device (ie: Piano Switch - Disable Local Control Child 1) and put that device into Rule Machine to set the child device to turn on at 10pm and then off at 6am.
Whereas this one:


simply turns local control on or off.
Hope that helps?
That, "SmartApps," "Smart Lighting," and the fact that that whole "Child Devices" input is trying to act as an explanatory paragraph (doesn't work in Hubitat, plus it's not "below" when viewed on most devices) could be added to that list.
Not exactly typos, but definitely carry-overs from a port of the SmartThings DTH.