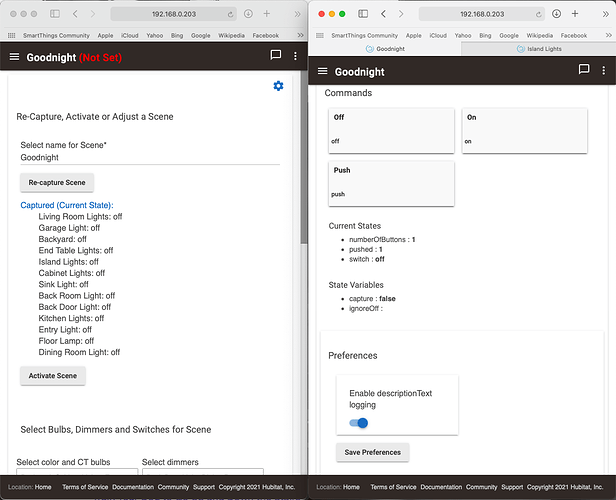 In the attached image, you can see all devices in my scene are off. When my scene is activated, this is the state it should be in. In the past, the scene would automatically report if the scene is active or not, and the activator switch would track the scene state. I don't know when this started, but all my member devices of my scene in are in correct state, yet the scene is reporting "Not Set" and the activator button is off.
There are no restrictions for my scene.
In the application state, I see that even though all my devices were captures in the off position, there are color mode, as well as HSV and CT values for the bulbs, and maybe dimmer levels for dimmers too. Every device in the event subscriptions list is set to call checkScene with Filter = true.
Looking at my End Table light and Floor Lamp (CM=CT, HSV = 50, 100, 10), the scene has a CM=CT, and CT = 5500. But both are in the "off" position.
This appears to be a parsing bug. If the scene wants the device off, none of the other attributes should matter. I suspect this may also be the source of the slow scene performance -- setting all the unnecessary attributes for a device that should be in the OFF state.
When I force the bulb into the correct color mode that the captured state has stored, then the scene turns back on just fine. Again, this is for bulbs that should be off.