Okay - so thats 2 features requests.
More than I ever wanted to know...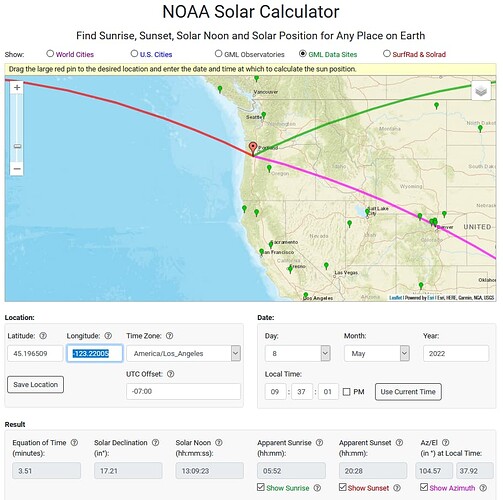 I started my day deciding to write a SR/SS app to pull from an API so I could standardize. As I began my research I learned why Alexa is different from Google which is different from Hubitat.
There is something called 'Apparent' vs 'Actual' sunrise. The reason Alexa is 2-3 minutes off is due to Amazon's use of 'Actual' sunrise. Unlike MOST services which seem to calculate based on 'Apparent', Amazon uses Actual.
The calculation of the difference, as I understand it is based on this refractions formula: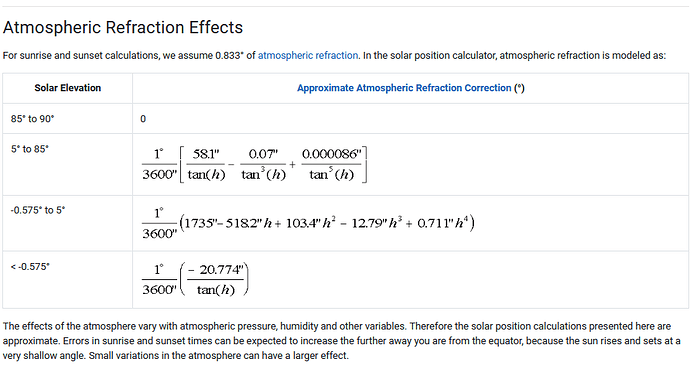 As I understand it, my HE allows me to only enter a 5 digit zip. When I attempt to enter a 5+4 (for higher accuracy delivery segments) it truncates.
The value of handling a 5+4 would give a more precise Long / Lat without the need to have the user do it manually.
When long lat is used to position on a 5 digit zipcode, it centers on the approximate middle of the zipcode. a 9 digit (5+4) has a much higher accuracy when running any geocodelookup. For me:
97128 - returns 45.1835° N, 123.2842° W
97128-7686 - returns 45.197125 |-123.220081|
and finally a google maps "pin location" of my exact location:
returns 45.197166434968615, -123.22007453063723
The sunrise / sunset fields on the HE display would benefit by having a small note on screen that 'Apparent' is used and additionally if possible, the source of the data (assumedly a gmap call?).
In the end - in my case, I will be ignoring the Alexa sunrise / sunset triggers as they seem to be 'odd man out'. Thankfully I happen to have both Alexa and G-mini and can run triggered routines on the google mini so I don't have to write this device/app!