Hi everyone
I need some advice with my Hubitat setup and various Zigbee devices. I've been using them for quite a while but am facing consistent issues. Here's the devices I have:
5 HUE motion detectors
20 Sonoff mini smart switches
3 Zigbee temperature sensors
some misc devices like tvs, soundbars, etc
For repeaters, I use:
6 Innr plugs
2 IKEA repeaters
The main problem is that most devices stop working after a few days post-reboot. They function again once rebooted, but the cycle repeats every few days.
Despite having repeaters throughout my 3-story house, I suspect connectivity issues since some devices close to the hub also fail. However, when I check the hub's mesh settings, some non-functional devices appear connected, which confuses me.
I attached the logs of one of the motion detectors that is near the hub. as you can see, it suddenly stopped logging around 2 PM and then when I rebooted it at 6 PM it resumed logging again.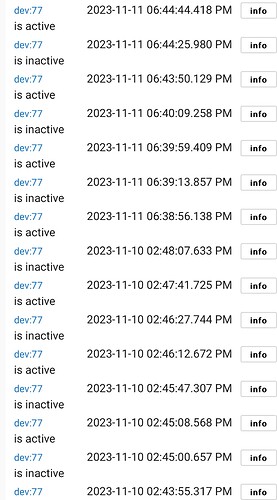 This situation is quite frustrating, considering my investment in this setup. I would really appreciate any assistance or insights. I'm happy to provide more details about the setup if needed. Thank you in advance!