I need some help choosing the right hardware settings in the community driver for my Honeywell T6 thermostat - I'm totally lost. My HVAC knowledge pretty much stops at barely being able to spell HVAC.
Our system has just worked w/out issues, so never had reason to dig into it,
I have this furnace below, connected to gas line - with an AC unit sitting on top of it. Mine is the second column in the table a little lower down, 07NAMER) is the model.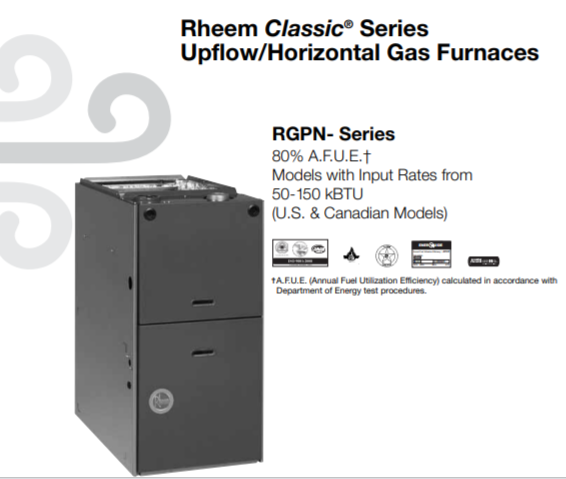 The Rheem Classic® Series line of upflow/horizontal gas
furnaces are designed for utility rooms, closets, alcoves, or
attics. Because of the low-profile 34 inch [864 mm] height,
the upflow model can also be used to satisfy most applications that traditionally call for a horizontal furnace.
• Patented heat exchanger, constructed of aluminized steel for the
maximum in corrosion resistance and thermal fatigue reliability.
• Low profile "34 inch" design is lighter and easier to handle,
and leaves room for optional equipment.
• Convertible from upflow to horizontal left or right without field
conversion.
• Left or right side gas and electric inlet connections with quick,
simple change.
• Robust and reliable direct spark ignition utilizing remote
sense and an integrated board with humidifier and electronic
air cleaner hookups.
• Insulated blower compartment helps to reduce jacket loss
and noise.
• Pre-paint galvanized steel cabinet.
• Molded permanent filter.
• Grab-holes in doors to aid in easy door removal and
replacement.
• A variety of cooling coils and plenums designed to use with
Rheem Classic® Series gas furnaces are avail able as optional
accessories.
• These furnaces can be installed in an upflow position or laid
on either side in a horizontal position. Field conversion not
required.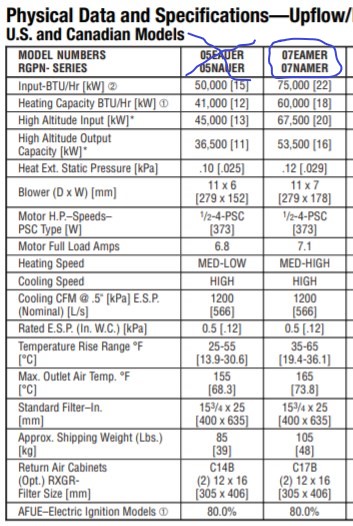 Mine has what I believe to be is an AC unit sitting on top of it (big compressor outside connected to it):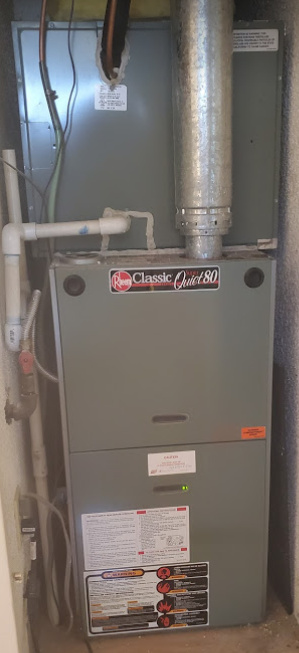 AC unit close-up, FWIW: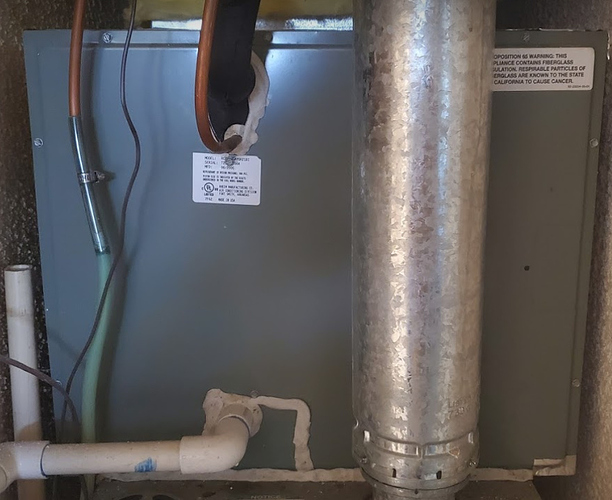 Manual is here:
Is above enough info to help me choose what to enter in the T6 driver settings, below?
Equipment type - I assume it's one of the two bolded
Options: Standard Gas, High Efficiency Gas, Oil, Electric, Fan Coil, Air to Options: Heat Pump, Geothermal Heat Pump, Hot Water, Steam
Reversing valve
Options: No selection, O/B on Cool, O/B on Heat
Stages
Options: No selection, 0, 1, 2
Heat Stages Aux/E Stages
Options: No selection 0, 1, 2
Aux/E Control
Options: No selection, Both Aux and E, Either Aux/E
Aux Heat Type - I assume bolded option
Options: No selection, Gas, Oil
EM Heat Type
Options: No selection, Electric, Gas/Oil
Fossile Kit Control
Options: No selection, Thermostat, External
Auto Changeover
Options: No selection, Off, On
High Cool Stage Finish
Options: No selection, No, Yes
High Heat Stage Finish
Options: No selection, No, Yes
Aux Heat Droop Control
Options: Comfort is first option, followed by a degree setting ranging from 2 to 15
Up Stage Timer Aux Heat
Options: Off is first option, followed by time settings ranging from 20 minutes to 16 hours
Balance Point (Compressor Lockout)
Options: Off is first setting, the degree setting in 5 degree increments from 5 to 65.
I didn't see anything in the T6 driver thread about choosing these preferences/settings, and didn't get any response to a post I placed there.
Really appreciate any help/guidance on this.