The Hubitat app works perfectly every time while at home on WiFi (local). If I leave home or disable Wifi while at home the app hangs when phone data is cellular:
Stuck on welcome screen
OR
'Dashboards' and 'Lights/Switches' endless spinning logo or blank white screen
Sometimes (not always) after 30 seconds to several minutes "Hub Unavailable" is displayed. On rare occasion after several minutes 'Dashboards' and 'Lights/Switches' eventually display but don't work. Screen shots attached. I tried clearing the apps cache but no help. When I return home or re-enable WiFi the app works perfectly again. When phone is on cellular data (not Wifi) I can temporarily get the app working again by:
Power cycling phone, WiFi still disabled after power-up
OR
Uninstalling app then re-installing
MORE INFO:
Hubitat App: Version 1.6.12 build 136 (current per Google Play App Store)
Hubitat Elevation C-8 Hub: Platform/Firmware 2.3.5.125
Phone: Samsung Galaxy S9
Model SM-G960U1
Android OS: Version 10
Carrier: Cricket Wireless (AT&T)
I realize my phone is not the latest and greatest but all other apps including Ring, Alexa, Govee, Ecobee, myQ, Swann Security Cams, and even SmartThings (sorry) work without any issues. Any ideas and advice would be extremely appreciated, Thank You.
Occasional Error Displayed: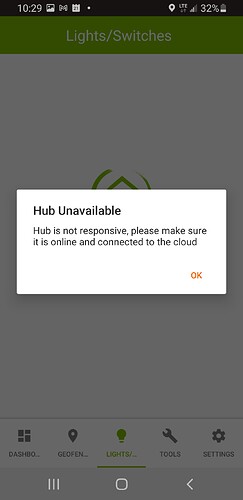 Stuck on Welcome Screen:

Stuck on Spinning Logo: