I'm migrating from SmartThings to Hubitat Elevation, and things were going well at first...
After I moved over the first 8 or so switches, I suddenly started seeing prompts to enter my security key... something I didn't have to deal with with the first ~8 switches, nor ever with SmartThings.
When I first try to pair it, I'm prompted with this popup (those middle two are checked by default):

If I check either of the top two options, I am them prompted to enter my DSK: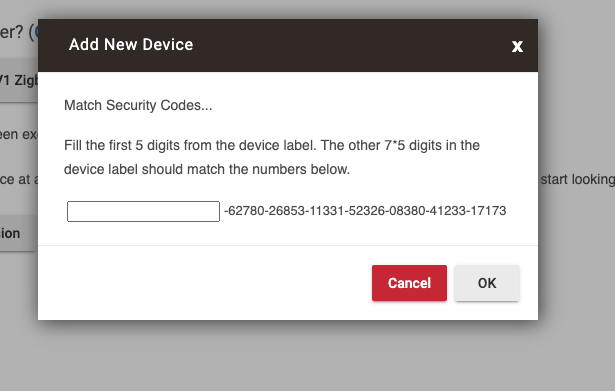 If I only select one of the "Unauthenticated" options, then it hangs on Initialization for the device indefinitely (I've let it run over night just in case):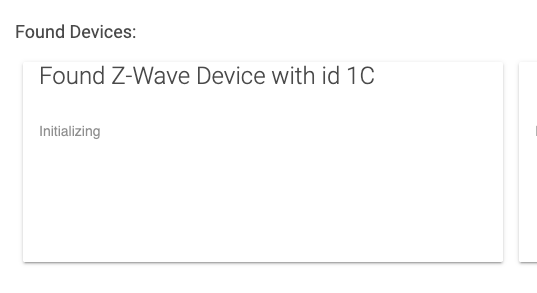 At this point, inclusion seems kind of messed up. It always brings the item I failed to pair up if I try again until I do an exclusion on that device.
I realize I could pull out all my switches and look at the DSK, but I haven't had to do that before and I really don't want to mess with it now... that's a lot of extra work to pull all those out (I think the key is on the back?). And even then... I remember there being a sticker, and I can't promise I left them all there...
It's really confusing that some of the switches worked before they started asking me for a DSK, and then like the next 5 I tried all prompted for it.
Things I've tried:
Excluding the device, rebooting Hubitat and then trying to re-include.
Different combinations of checkboxes in the security prompt.
Factory resetting the switches.
Rebooting Hubitat a lot.
Completely resetting my Z-wave Radio (which didn't work and now I have to remove all the Devices from Hubitat (as they aren't automatically removed when resetting Z-wave Radio), exclude the devices from Z-wave and re-include the ones I had working).
Repair Z-wave and give it time to run. I did this a few times.
Move the Hubitat Hub a lot closer. About ~15-20 feet away, which is much closer than other switches that paired no problem.
Triple checked it was excluded from SmartThings.
Ensure that SmartThings is unplugged (which I had had it running while I migrated things over... it still controls a bunch of other things I haven't moved yet).
A lot of Google searches to see if anyone else has encountered this issue.
Things I haven't tried that would probably work:
Enter a DSK. I don't understand why now? I'd like to not have to deal with this and just have it "just work."
Switches that have failed with these same symptoms:
HomeSeer WD-100+
HomeSeer WS-100+
HomeSeer WD-200+
HomeSeer WS-200+
Switches that worked:
HomeSeer WD-100+
HomeSeer WS-100+