Hello, hope someone can dumb this down to where I can understand it. This is also a general question about this MQTT stuff, with the possibility to use it for other IOT purposes in the future. I have read some stuff and watched a couple Youtube videos, but it isn't sinking in for some reason.
I have a device called Genmon. It is a 3rd party Generac generator monitoring software that runs on a Raspberry Pi.
The Genmon has an MQTT app (see screenshot and app documentation below).
I have a Hubitat.
So how can I tie these together? I really am having a hard time understanding the MQTT stuff, there seem to be various terms thrown about that are inconsistent. These are exact names of what I see in various places on that Genmon app, as well as on the Hubitat and other forums.
"MQTT broker server"
"MQTT bridge"
"MQTT client"
"MQTT server"
"MQTT broker"
I guess I don't get what all these are, whether I need more hardware or software, or what. Who does each of these roles? Are these really just two things (server, client), with people making up names of stuff?
In some places, it sounds like I need something else like another Raspberry Pi (or computer of some type) to tie all this together?
I tried one Hubitat MQTT app, I think it was the one by Kevin. But I think I was doing something wrong because it didn't do anything, output any errors, or even show that I had tried to tie Hubitat to Genmon.
It looks like there are a couple Hubitat MQTT apps, is one better or easier than the other?
And finally, I guess I don't fully understand all the settings below do. Who is the MQTT server, for example, is that Hubitat or this other mystery device?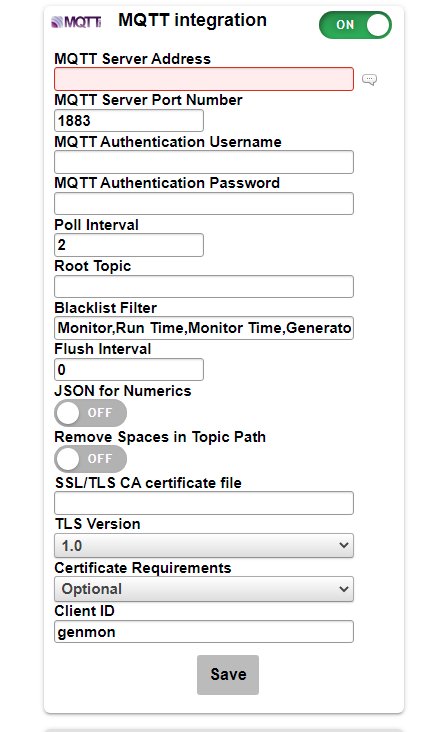 Documentation for Genmon MQTT 1 Software Overview · jgyates/genmon Wiki · GitHub