What I want to achieve is 'If the garage door been left open for over 10 minutes then run rules otherwise if closed before 10 minutes of being open then exit rule'. I also wanted to restrict the 'Notify' action to Day Mode only but I couldn't find an option for this (other than ' At Specific Time') let alone know where to include it in the logic.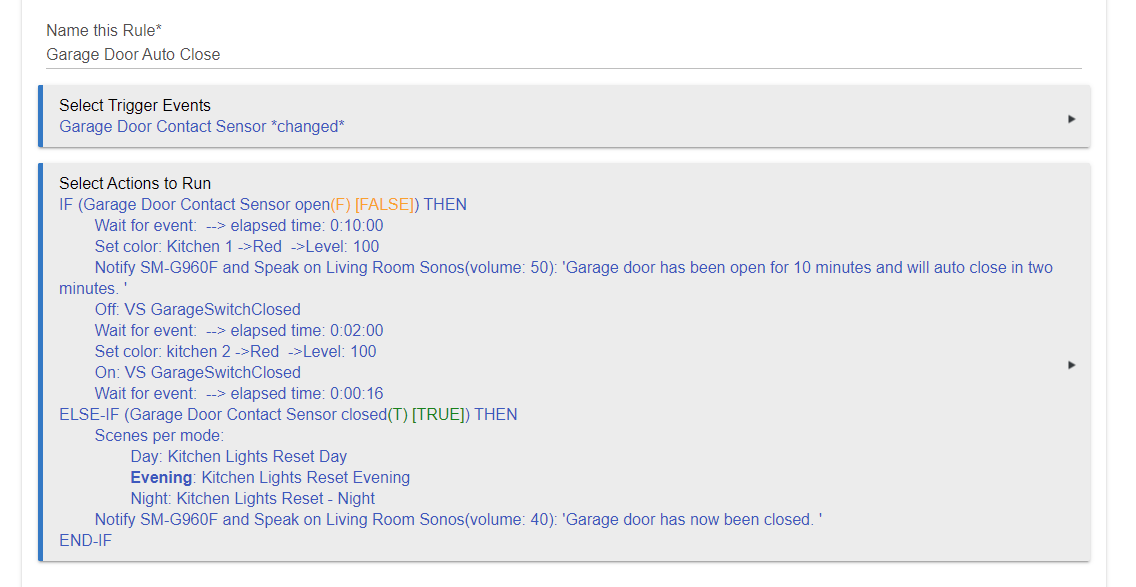 I swear I've spent a couple of days trying to get this to work using my limited knowledge but I just couldn't.
About the logic:
The 'VS GarageSwitchClosed' is a virtual switch pointing to my eWelink garage door opener which I integrated throught IFTTT - I need to turn it off first then on so it closes the garage door hence I included this in my logic.

'Wait for event: elapsed time: 0:00:16' I included this because 16 seconds is how long it takes for the garage door to fully close
What works:
Lights change to red, notification to my phone and sonos speaker are sent, garage door gets closed, lights state is restored per Mode in the end
What doesn't work:
Rules run despite the fact that the garage door was closed before 10 minutes of being opened. For instance, Actions for the 'ELSE-IF' condition are run first then actions for 'IF' are run even though I opened and closed the garage within 3 minutes.
If someone could assist it'd be great.
Thanks in advance