I've gotten a few basic things set up on my new hub (motion, lights, etc) and I wanted to try a few community packages. I successfully loaded a Kasa driver and app, which worked perfect. This was a big win, because I've never used GitHub before. I downloaded the desktop software, but that was really confusing.
Eventually, I figured out that I only needed the .groovy file from the top level folder and that I could open this, select "Raw" from the Github browser interface and just copy / paste into Hubitat. This isn't covered in the Hubitat documentation on installing Community Apps and I think it would be the difference between success and failure for newbies like me. I put an image of this workflow below if it's helpful to anyone. Please let me know if there's a better way, but this worked for me.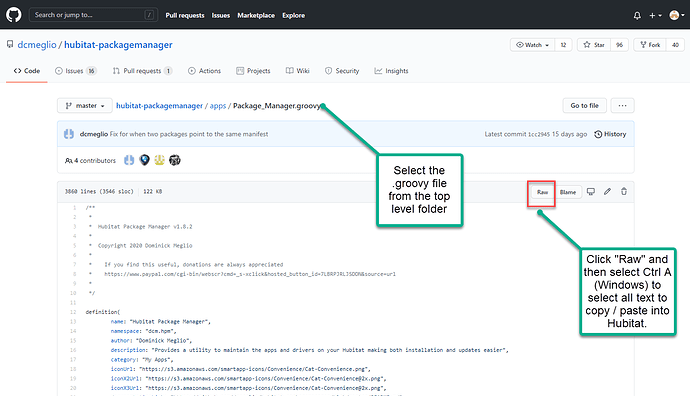 After getting the Kasa app / driver to work, I wanted to try one or two more, but they all required a few different apps to be installed, so I thought I should try Package Manager. I installed the app in the same way and it seemed to load and authorize fine, but when I went to discover existing Packages, it got stuck on the hub security.
I don't have hub security enabled. I removed the app, re-installed and tried entering my credentials (even though security still was disabled). Still no luck. Could this have anything to do with the way that I installed the Community code, described above? Does Package Manager require Security enabled in some cases, even though I seem to have the settings correct?
I was going to try enabling security and then re-trying, but I still haven't tested reloading my hub with a backup config from my harddrive and I want to test that before enabling security and potentially losing access to all of my data if I goof something. Lol.
Any thoughts on what I might be doing wrong? Should I just ignore Package Manager and just go back to installing apps the standard way?