My lock seem to be locking only when they want and I cannot figure out why. I have a Goodnight rule that when I push a button on my keypad it shuts all lights off (except stairway that comes on), and locks all the doors. I noticed last night the kitchen door did not lock. This morning I turned on the logging and ran the app again. Today it locked the Kitchen, but not the back door. It looks like the command was sent just not received. However just after it failed (I waited a minute or so) I locked the door via the dashboard and it locked, so it seems it is communicating. Not sure what my next steps should be to figure this out.
FYI the locks seem flaky with all rules not just this one, but this was a good example as the presence sensors are harder to run "as needed", I figure this one was easier to troubleshot since I can "trigger it" as needed.
Log after button push.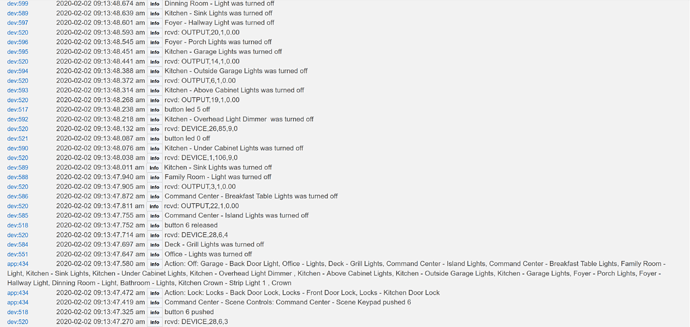 Lock log (Note - it unlocked at 5:55am which is a rule) It did not seem to get the command at 9:13am but did receive my dashboard command at 9:15am (I did nothing else between the two commands)