We had a cold-freezer-warm-fridge situation which required immediate intervention. Taking off the freezer back panel revealed not only the evaporator completely frosted over but also the coil inlet and defrost thermostat completely encased in solid ice.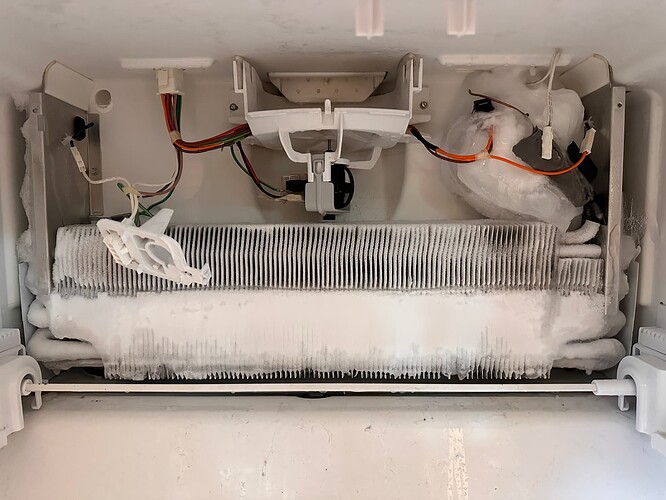 I did the obvious thing and defrosted everything. Next question is : what went wrong ? Is the defrost heater broken? (read 30 Ohms on the multimeter so should be good) Is the bimetal defrost thermostat defective? (would have to take the evaporator fan assembly apart to get to the leads so... dunno) Has the control board gone bad?
I decided to put the fridge back online, but this time connected through one of those slightly chatty Thirdreality energy-monitoring plugs and with a Sonoff temp sensor thrown in a ziploc bag, both of them hooked up to Grafana via the InfluxDB Logger app, so I could see what's going on.
The result :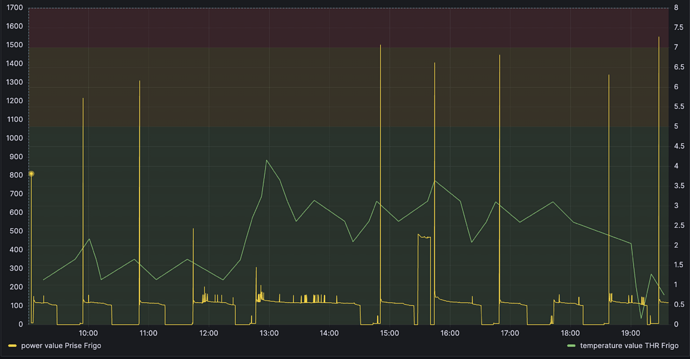 Nice compressor startup spikes
So it's pretty clear the compressor is getting cycled as expected. Not sure what the short little spikes are... damper door? evap fan? Fridge was open a bit long around 1pm when my spouse loaded it with food, so temp went up. Otherwise seems like temp control is working OK (the SNZB-02 is not exactly a precise instrument).
Finally the event I was actually looking for occurred at 3:30pm : compressor turns off, then a 480W load for 10 min., then compressor turns back on. Sure looks like that 30 Ohm defrost heater is getting juice.
Pretty cool I was able to confirm everything is working as it should using $20 worth of stuff I had in a drawer. What went wrong? The only thing I haven't ruled out yet is the sealed system,
(someone later remembered the freezer door "might" have been left a open a crack for a "little" while)