I installed a new zigbee water valve from Sinopé and it worked so-so (because all the features were not recognized). So, I tried to upgrade the firmware of my C5.
Sadly, after that a lot (maybe not a lot but...) of rules were not working anymore.
My Caseta related rules are not working (motion => no light activation on various lights) and/or "advanced rules" like this one are working partially (no dim light while running, full light only) .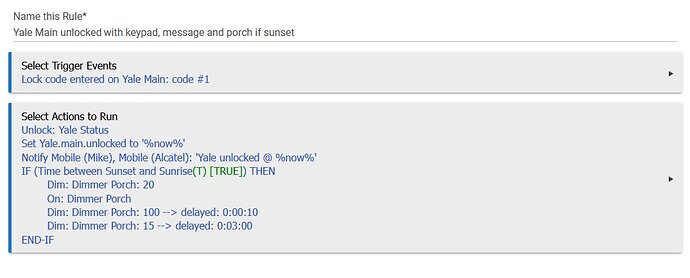 I also noticed that hubigraph is no more working as it should (I know that Hubigraph was discontinued due to some problems with the new firmwares) in my old firmware.
I didn't test my entire system, just noticed the obvious for me.
Your opinion on this: should I keep my old firmware as is on my C5 and install the sinope on a C7 I have (+ link between the C5 and the C7 like I do with other devices) or is better to reevaluate everything on my C5 (probably time consuming) to run the latest update ?
Thank you
Note: I reversed the firmware (to 2.2.3.119) and all is working as expected, including Hubigraph