I'm going to relentlessly play the 'newbie' card and ask a question that's remarkably like @richpasma 's question from 2020: Everspring HSP02 Motion Detector Driver?
I too recently installed an Everspring HSP02 Motion detector on my HE hub C8. As in 2020, the device is still listed on HE support as being compatible. And the generic driver that was installed as part of the Inclusion process is what I have been using and have not been able to find anything else. Check.
Unlike the earlier post, I am unable to get it to respond in any way. It appears in my devices display with these two states: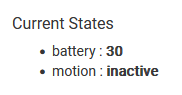 No amount of motion in front of the sensor seems to trigger anything.
Scanning the support documentation reveals 11 posts with HSP02, but only 4 that seem to fit. Two of them are from @richpasma and contain external custom code links that have since disappeared. These appear to be based on code for another platform.
The last message on richpasma's post indicates the source code is available at an internal link, but that link doesn't do anything (I mean it doesn't even try to open a URL)


What advice can this community give me to get this device operable in Hubitat? Am I missing something obvious?