I'm experiencing some difficulties with the new driver for the Ikea Zigbee Sound Controller.
First, whenever I try to use the setLevel command, I get the following error:

When I try to use "on", I get this error:

And when I try to use "off" i get this error:

These 3 errors make this driver pretty much useless if you want to use it with an app like Switch Bindings. And you can only use it with MirrorMe if the only thing you're ever going to use to control the device is this remote, since you can't change it's switch or level from anywhere else. (note: all of these commands were direct from the edit device page)
Also, I am seeing that when you press button 1 on the edit device page, that does not toggle the switch like you would get if your pushed the button physically. Pushing it physically gives you this:
While pushing it on the edit device page gives you this:

Next, I found that occasionally the device will go into a "run-away" state where even after the released has been captured, the device will continue to change. I was able to capture logs for one.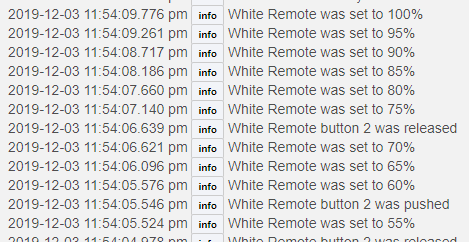 You can see the release but the device continues to change. These were the settings at the time.
I am seeing the same problem in a driver I adapted from the ST DTH. I am using runInMillis and a state variable to make the level changes and then stop when the dial stops turning by setting the state variable to false. At the top of the function, I check that the value of the state variable is true but it seems that isn't being capture accurately or not checked accurately at the top of each execution of the level changing function. I was expecting that I might get one extra level change for everything to catch up with itself but it seems that something else is not being capture completely within the driver's execution. I'm even changing the state variable to false in two places to help catch the change but it still misses occasionally.
And lastly, I do not see any implementation of the triple tap of the primary button. I know no one around here is fond of the triple-press capability but what about using button 4 pushed instead? Currently, triple taps show up as a double tap. But triple tap is a separate report from the device.