I've wanted to bring my door bell into my smarthome ecosystem for a while but I really don't want a video door bell. I looked at lots of different projects that mainly focused on using a dry contact sensor, which wasn't going to work for me.
I have a couple of gen5 Aeotec recessed door sensors which are triggered by magnets so I dug back to my school science days and watched a couple of youtube videos and built a battery powered electromagnet.
I took a single wire from some cat5 cable and wrapped it around an old floorboard nail for my proof of concept.
Here's a pic of the electromagnet triggering the contact sensor: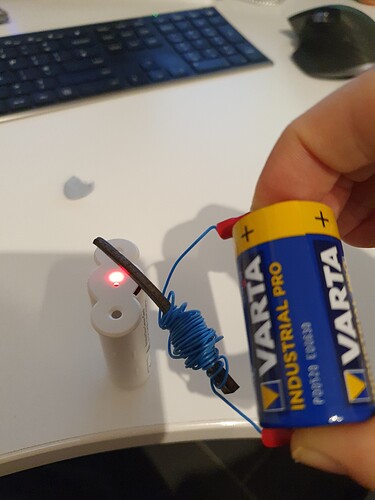 My next step will be to run one end of the cable through a wired door bell push, cut down the nail and find a case that will enclose it all tightly.
I was hoping that to power the electromagnet straight off the sensor battery but, I'm going to run it off a separate 9v battery which will give me decent battery contacts and fit the whole thing in a small patress behind the front door.