Hi All,
UPDATE: after hitting "run actions on the rule, the app successfully completed the actions, HOWEVER, then I went and closed the door that I was using to test the rule, and got a hang up again.
New Screenshots from update

After hitting "run actions" on the rule


After closing the door (obviously waited 30 seconds to see if the rule fully executed, but it did not)

Original Post
Haven't found any recent posts about this since rule triggers are now allowed to have a "and stays that way" (from now on known as ASTW) condition to triggering.
I have a simple rule that triggers when any contact sensor opens or closes, then if any are open, my virtual contact sensor reports open; if ALL are closed then the VCS reports as closed.
I thought it'd be perfect to utilize the new ASTW triggering feature. The logs look like it's being triggered but no action of "turning on."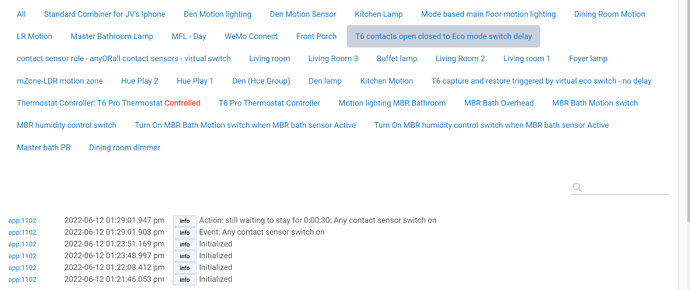 Here is the rule setup: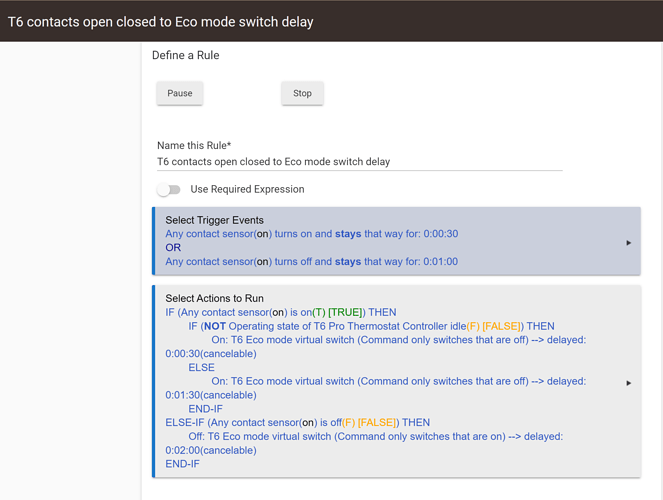 Additional Info (other rules involved):

when the eco mode virtual switch is on, then it will immediately capture current state of the TC for my T6 Therm, then set mode to "off". When the switch (contact sensor) is off, then it restores the TC from the previous capture.
I'm still far from pro-status with RM but aspiring to get there. Please let me know what I'm doing wrong!
Thanks!