Be careful....the Iris v2 lots being sold now may not come with magnets. So, be warned.
That is not long battery life in my opinion.
Good zigbee contact sensors go 3-5 years between replacements.
They don't but I purchased magnets off Amazon for fairly cheap in lots of 10 to match the iris v2 sensors.
And they work? Then you're lucky.
I just used the magnets and threw away the rest.
What brand does this? I would expect any contact sensor that also reports temperature to have a shorter battery.
They did do this, but I thought it was fixed in one of the latest updates.
Genereic Z-Wave Contact Sensor fixed double events for the following devices:

* Ecolink Contact Sensor 2.5
* Ecolink Garage Door Tilt Sensor 2.5
* HomeSeer Contact Sensor

Same with the Xiaomi's.
Have them (20) running for 2+ years now, still on first batteries.
I ordered a batch of five MCT-350s to test out. I'm curious how the temperature reading updates on them.
Where did you order from?
eBay, lots of them on there - used and new. ~$19/ea new in quantity. or $13-15 used.
Now, they very well might be stolen off of an Xfinity or other installers truck for all I know... But I guess that is the magic of eBay...
Well, I have the MCT-350 now. Not much to say about them:
they are fairly small
pair/work just fine in Hubitat
Report battery, contact status, and temperature
They were new devices, battery currently says 100%. They are reported to have "up to" 5 year battery life, so I'm not sure I'll know anything meaningful on battery reporting/life any time soon...
I am curious to see how they report temperature though. Might be useful as another temp sensor... But it all depends on how it reports (presumably delta temp based, not on a schedule). No idea what the delta temp reporting setting is for them.
OK. Looks like using the in-box driver temperature the MCT-350 reports at 1 DegC changes.
@mike.maxwell Do you know if there is a way to set the reporting to something smaller (0.5 DegC / 0.9 DegF for instance)? 1.8 DegF kind of stinks.
The driver is set to .5C change so either config didn't take or the device isn't respecting the config...
Dopey device...

Side note - it logs nothing other than "configure..." when hitting CONFIGURE, even with debug logging on. I would have expected some zigbee response logging.
I'll hit config again and see. Here is what I'm seeing now (1.8 DegF):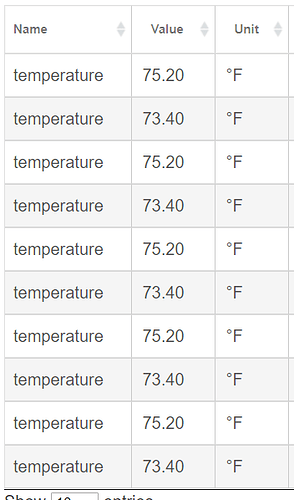 Responses to config come in via catchall, which for these drivers is just dropped since it's of little value.
For the record, the temperature on the MCT-350 reports back in 1C, not 0.5C, intervals with the in-box Generic Zigbee Contact Sensor driver.
I've tried repairing, and hitting configure multiple times - always 1C between temperature reports.
Unfortunate.