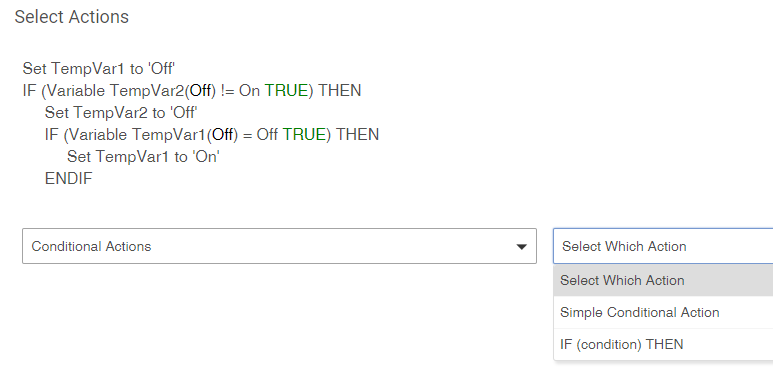 I first started by defining the IF TempVar1...THEN...ENDIF
Then I decided to insert an IF TempVar2... THEN...ENDIF before it to get something like this:
IF (Variable TempVar2(Off) != On TRUE) THEN
Set TempVar2 to 'Off'
ENDIF
IF (Variable TempVar1(Off) = Off TRUE) THEN
Set TempVar1 to 'On'
ENDIF
But the system won't allow it (it's not in the Action List).
But strangely, it allows me to add another "IF (condition) THEN" even though (according to the documentation on Rule 3.0) it's not allowed "IF-THEN-ELSE may not be nested".
I'm pretty sure that we should see an ENDIF instead of "IF (Condition) THEN" in this particular sequence
(This is a very simple example). The one I need to change is much bigger.
This is forcing me to rewrite everything after the "inserted" If/Then/Endif just because I want to
add a Conditional Action

P.S. If I do the same but there is no existing EndIf, I can insert the Conditional Action.