Hello All,
I have mostly basic routines. A good night routine that shuts off my living room lights, and a fan and my night light, and then a good morning routine that turns those lights on.
The other night I accidentally hit my Apple Sleep routine for my alarm clock, which then turn on a HE virtual switch. That virtual switch called good night, starts a routine called good night, and shuts my lights off. Simple enough. But I wasn't quite ready for sleep time yet so I ended that sleep routine in the apple sleep app by scrolling up, which then turns on a switch called wake up, which is a HE virtual switch. Usually works well except it is designed to slowly ramp up illumination from 1-100 over the course of 10 minutes, lol.
I needed light by my bed right then which is why I was trying to stop all of this, no matter what I hit, the light to come on full bright the routine would ramp it back to the spot it was during the ramp up.
So my question is what do I need to build in to cancel a routine, once it's underway.
example....
Good night.....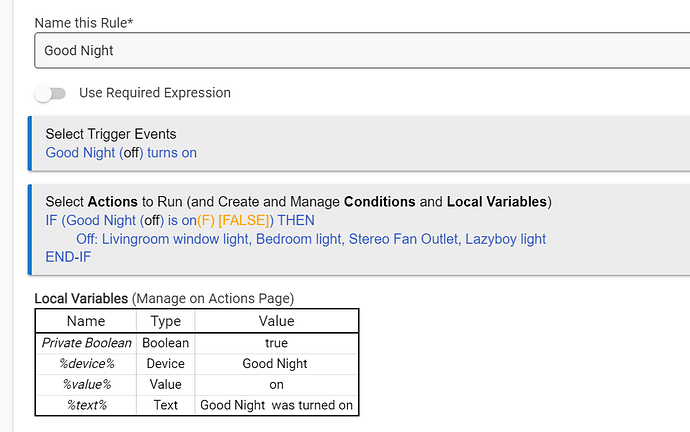 and Wake up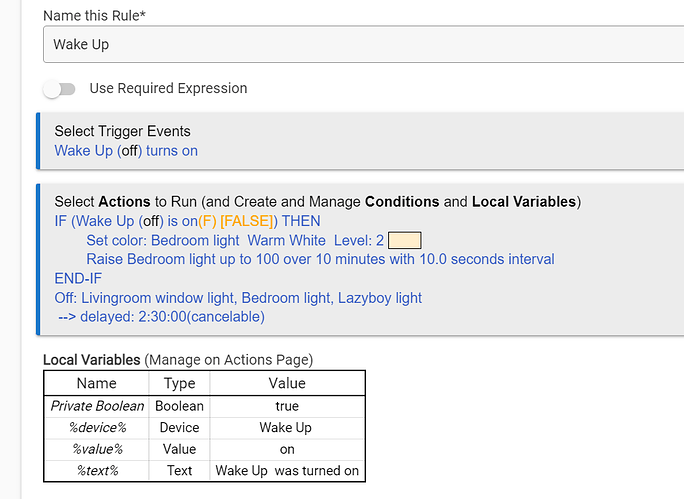 Thanks for the help...