Using Sengled E11-G23 bulbs with the Advanced Zigbee Bulb driver, with 2.2.6.139.
I inadvertently set off the HSM intrusion alert when I arrived home today, then disarmed the system using an Xfinity keypad. All worked as expected, except one bulb (living room lamp) of the five that flash on alert, continued flashing. Tapping the bulb's icon on a dashboard did nothing, nor did clicking On or Off from the device's menu page. The only way to stop it from flashing it was to hit the menu's flash button, twice.
This happened a very few times before on 2.2.5, however I never had the time to take a look at things. I recreated the condition by pressing an Iris V2 keypad's Panic button, then disarmed the system. This time the Front Door bulb would not stop flashing.
Looking at the Front Door Bulb's menu while the bulb is flashing, the state "flashing" setting was false, and like before ON and OFF buttons did nothing to the bulb, although the device's menu status current states "switch" status changed matching the On or Off press.
It should be noted that other than this issue, everything works well with the bulbs, they quickly react to commands, and there are sufficient zigbee repeaters in the mesh. Also, removing power from the bulb stops the flashing when power is restored. There are no errors in the log.
Bulb status while flashing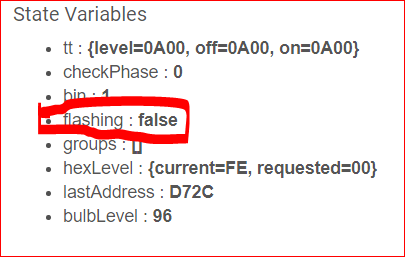 Tagging: @mike.maxwell