I just switched to the new driver for this thermostat. Hit configure - all the controls work ok.
The only thing that isn't working is that "thermostatOperatingState" doesn't update when I use the device page to turn cooling or heating on (Edit - just realized I didn't actually test heating).
It updates with the Generic Z-wave thermostat driver. For example, my AC has been running for 5 minutes now and the operating state still indicates idle.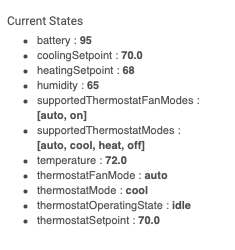 The logs indicate the setpoint being lowered, but again don't indicate cooling is started. Although it has.
Let me know if I can provide any more information.