Curiously, a gremlin is following me around Button Controller as I edit (to rename) each of my assigned rules: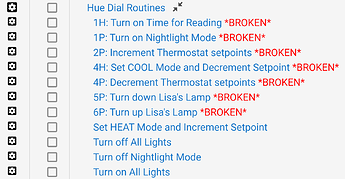 The rules themselves are not broken**. For example, here's the "Set HEAT Mode" one shown in list above, prior to renaming, wherein everything looks fine: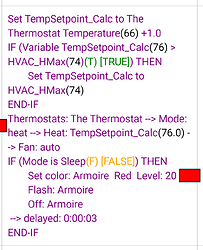 ...yet it acquires the *BROKEN* tag immediately after renaming, with no other changes made:

**NOTE: The only recent activity to the Parent instance ("Hue Dial Routines") of this BC involved a REMOVE of the physical remote (a child of the CoCo integration), causing the BC's controlling device to be vacated momentarily. Yet no *BROKEN* warning appeared at that time, nor after re-creating the same button device (in CoCo) and re-assigning it to BC.
*BROKEN* only began appearing after making each individual edit. I finished the edits, all 11 of them, tried testing each one, and found 'em to be, indeed, non-working.
Curioser still, doing a Clone of the BC created a clone with *BROKEN* *BROKEN* displayed next to all 12 sub-rules. Looks like there is no redemption, so I will delete both copies and start from scratch, unless someone tells me a way to un-BREAK things in BC. Assigning the control was clearly insufficient.