I'm experiencing some weird problems with my zwave installation.
Take a look at my zwave mesh: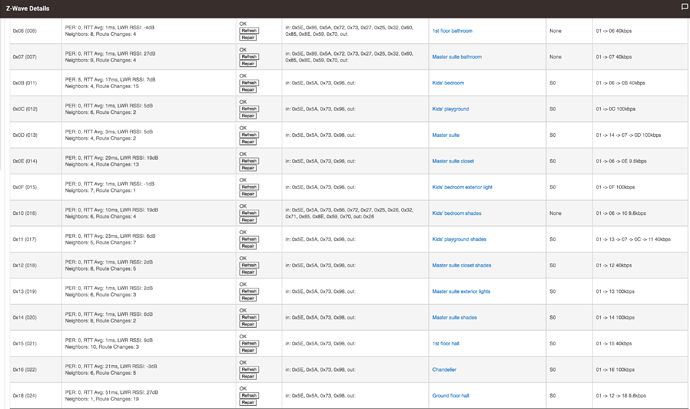 Hi have these 16 devices right now, 13 of them located on the same floor as the hub. I'm a recent owner of zwave devices, so I don't understand some things:
Why am I not able to control device 0x0B when I can perfectly control device 0x0F which is farther from the hub?
But if I physically change the status of that device, the hub is receiving the status changed message. How does this makes sense at all?
How can I change the security to NONE? That would improve the communication right?
0x10 and 0x11 are both Qubino flush shutters but that have different Security. Knowing that I did the same pairing procedure how is that possible?
Also, some times I got a device with status PENDING, I run the repair and it completes successfully but after that the node is still PENDING.
Finally I don't understand some routing as they are connected with farther devices when they have closer ones to connect, but I guess that is some kind of zwave magic that I don't need to understand right?
I would love these questions to be answered cause I am in the beginning/middle of my zwave journey and I'm even considering changing my hub as a desperate measure.
Cheers