I am trying to use the ZEN16 as 3 dry contact sensors and am having trouble hoe to configure that.
Without more detailed info other than you saying 'having trouble' it will be impossible to help you in a detailed way. Here is some generic stuff as I am installing two of them today to control 2 sets of Velux skylight blinds. When you include them into your Hub, it should automatically use the built in Device Type Handler :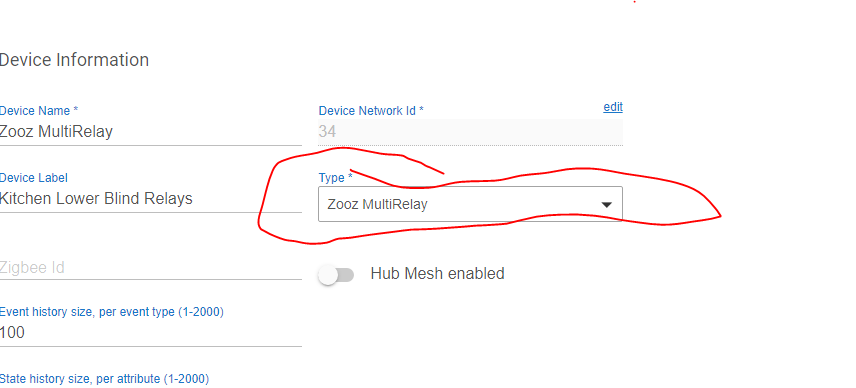 Once you save preferences in the main device Device it will create the three child devices. The below picture is from the devices page of your hub showing the 'parent' device along with the three child devices:


You can control many different functions of the three relays by configuring them within the main parent device. Here are all the configuration options in the parent device to control the 3 relays: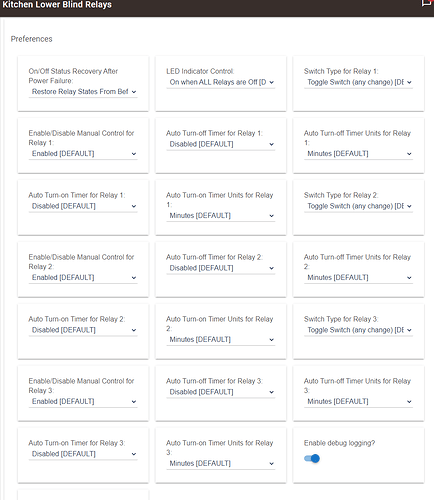 Make sure to click the 'save preferences' button after you have made any changes to the device!
I am setup just as you are there. I dont know how to make the three child devices contact sensors.
At the bottom of the device configurations in the 'Parent Device' click on 'Save preferences'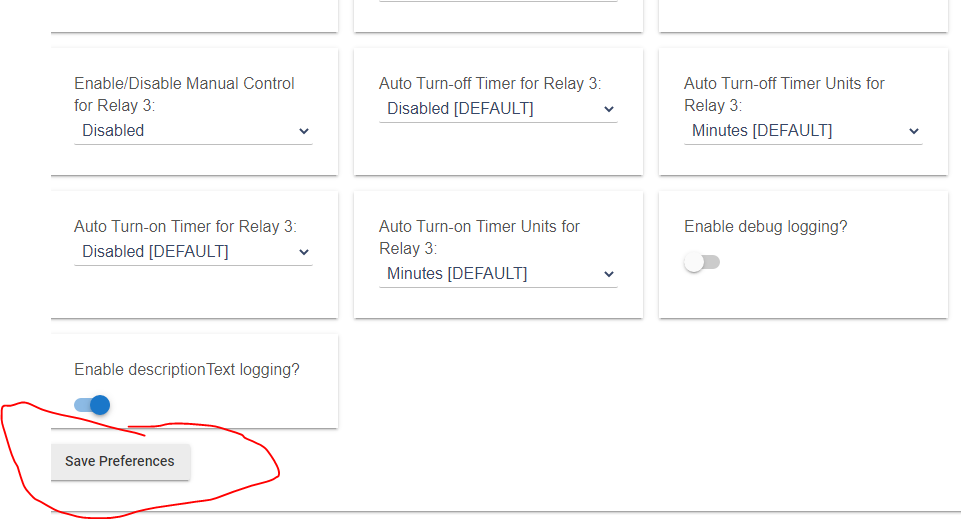 Then at the top of the Parent Device click 'Refresh' and 'Configure'.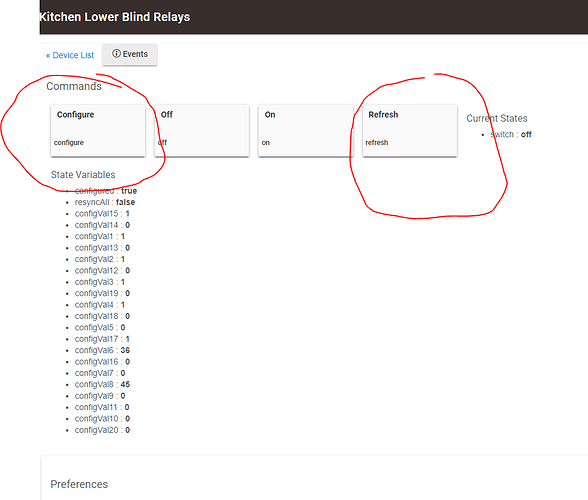 I am not sure of which combination of these three buttons, or maybe which particular button, actually creates the child devices but do all these three then they should be created.
Yes but I can only configure Momentary, Toggle, Toggle switch any change, Garage door. Is there any way to monitor the contact sensor instead of the switch?
I think this is the way to use the device to monitor a contact sensor. Try it and let me know if it works:
Connect your contact sensor to one of the the switch inputs.

Change switch type to toggle switch

Enable manual control for the relay
Once you do the above you monitor the contact sensor being open via state of the the relay itself ( the 'switch' of the relay being on or off)
Not 100% certain of this but @agnes.zooz will know for sure!
Thanks for your help. This is what I also am thinking now.
If you're looking for open/close reports on the inputs monitored separately from the relays, then I'd recommend the ZEN17 Universal Relay (on sale this week) for that. The ZEN16 has the inputs fixed to outputs so the only way to monitor anything would be by triggering the relay and monitoring its state as @Levahj described.
Thanks I got it going. I saw the ZEN17 but I actually have 4 Dry contacts I was monitoring with battery powered sensors. I am hoping the 4th will now repeat off the ZEN16. I Wish I could have caught that sell would have just picked up 2 of the ZEN17's. Bought my ZEN16 last week of amazon.