I moved from Wink to Hubitat C7 a couple months ago and absolutely happy with it. When I went recently to work in the Apps area I noticed I had 30+ each of the "Maker API" & "Preference Manager" & "Thermostat Controller" apps in my app area. I started my hub life on 2.2.5 and have only been on that firmware. What's up with that?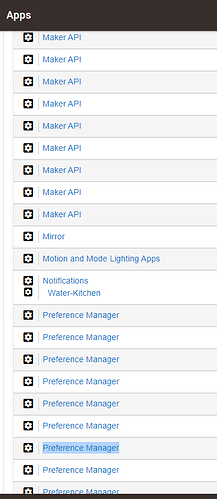 The Maker API all point to items on the Hubitat's IP space.
http://192.168.1.2/apps/api/513/devices/[Device ID]?access_token=XYZ
The Preference Managers don't have anything actually set in them.
The Thermostat Controllers also don't map to anything.
I do have an Ecobee63 with 6 temp sensors connected to it but it shows up correctly as the Ecobee Integration by itself.