Hi dev team, when is 2.2.9 being released? I've seen an IOS app update that mentions it!
Stock answer:
When it's ready....
or
Soon...
lol!
yeah but OP wants to know if it will be SOON O'CLOCK or SOON:30?
There is no set date, but USUALLY once the beta is released to external testers it is a week or two after that. Again - usually - it depends on what is in the release, and how many issues there are.
I'm guessing the reason this was asked is an update to the mobile app mentioned support for something in 2.2.9. It's gonna cause questions when those things get out before the actual update.
Oh sure - no doubt. Nothing wrong someone asking, especially when they see a reference to it.
A whole lot faster than Wink hub soon. And very likely much quicker than Dish Network soon. Sorry for the specific references, but you will get the humor if you have experienced these products.
I would predict 2.2.9 will happen sometime between tomorrow, and next year.
Not a guarantee, but as close as you'll ever get:
from another post I made
"What, are you on vacation? We've gotten so spoiled here I expected a new release, fixing the bug and adding 2 new features by now! After all, it's been almost a whole 30 minutes!


"
And way faster than Staples Connect soon.
Somewhere between faster or slower than an Elon Musk SOON.
And eager as I am, I will wait for the rollout of the first few updates to the update.
I always give an update 2 to 3 weeks before I update. There's always a flurry of hotfixes during the first couple of weeks.
According to my own calculations, the release will either be on Tuesday or Thursday CW.40 and most likely the latter due to history. This will be backed by the added chart and included trendline!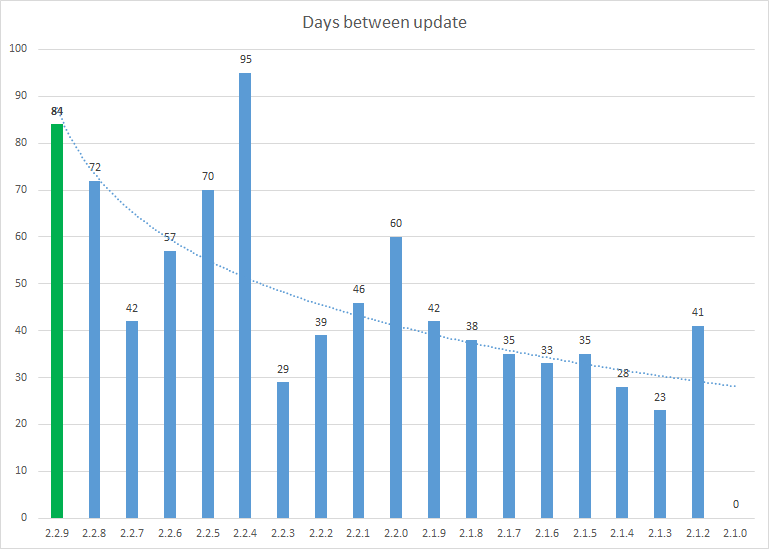 Can I please have some all the extra time you have on your hands?
I you look closely, it is actually following a 4th order polynomial curve. Or is it the inverse of the NASDAQ index?
A slow day at work... I'll give you notice two days ahead!

Ehhh... yes!!