I always thought i had a strong Zigbee mesh (- the fact that they are Zigbee lamps) I don't seem to have any issues (- some oddity a few months ago when a device was about to fail). Most of my devices are Osram lamps X 7 with 4 Philips hue spots (tor replace the oddity issue). I also have 2 x Osram buttons, 2 X ST presence sensors and a Exbee. Hub is C4
Today though, don't know why but i decided to look at the Zigbee logs and most off the RSSI values are 80+ so shouldn't i be having issues?
my kitchen has the 4 Philips spots then there is a doorway (no door) to the dinning room with a pendent chandelier lamp, in that room is the coat cupboard with the hub (ground floor centre of the house stairs up next to it) this leads to the hallway with the front door with 2 more pendents in. Off this is the front room with the Xbee. Then 1st floor is bathroom bedroom 2 (LarB) and 3 (SmB) and each bedroom has a Zigbee pendent. Then up to top floor bedroom 1 (MB) with 2 zigbee spots on front window.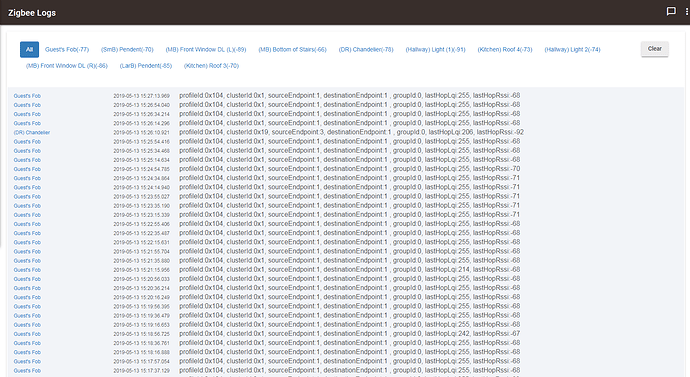 question is for those of you with "strong" meshes how many devices do you have within a room and whats the kind of values you get?