Where can you find a hubitat compatible scale? Like for logging weight over time?
Not HE compatible directly, as such....but I use a Withings scale device along with their Health Mate app. It's really excellent. Especially when combined with their sleep pads. The scales track weight, bone, fat, water etc. The sleep pads then supplement that with sleep duration, quality, and apnea info. All presented nicely in the app and connectable using IFTTT (eg. can send notification when weight reading is taken, can switch Bedroom lights off when in bed etc). Now we also plan to buy their new ECG sports watches when they are released. Can't recommend their gear enough.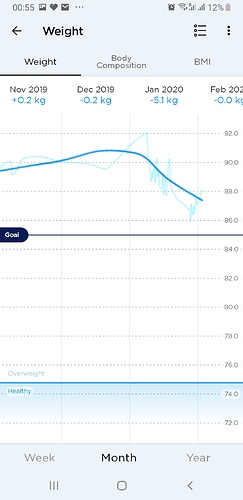 Impressive numbers during Christmas!

More than I can brag about... Hahahaha
RogerThat
FitBit's Aria scales also log weight. I never looked for any sort of API.
Ha ha ha, thanks. I'm on a crusade to get my weight down. 6kg down in a month so far but many excesses this last weekend has driven it back up again, sigh. A week ahead now of strict dieting and exercise. My target is to run a 5k fun run in March which for me is equivalent to a marathon lol.
Hmm. Was looking at local stuff but that may work, depending on how ifttt feels that day...
Yeah, would be nice. Have not seen any local DB function to store historical measurements, and display in a graph yet, but I guess this is on the table for future fw?
Who knows?
RogerThat
I can set that up with web hooks I just want compatibility lol.
Or just share it as a virtual temperature sensor to my smart things hub to get the graph while keeping most of it local.
This topic was automatically closed 365 days after the last reply. New replies are no longer allowed.