I don't have reason to use variables too often. I haven't had an opportunity to test this yet, but here's what I'm trying to do.
When I get back, sometimes, my SO is with me. The devices arrive at nearly the same time, but sometimes separated by minutes. That that happens and the below routine runs, it's usually after we're in the house, and the garage door reopens. Sometimes I forget to reclose it (honestly, it SHOULD as the "close garage door" routine is in my Goodnight, but I'm getting around to troubleshooting that now, and that's a different issue.
My question is: is this the best way to do this, or is there a more elegant way that I'm just not aware of?
I'm Back rule: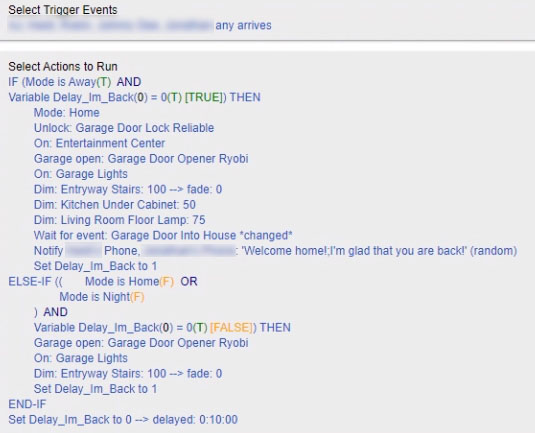 This is mostly to make the rule more elegant, I will troubleshoot no problem without input, I'm just not used to variables yet. Thanks for any suggestions.
Edit 01: used the wrong image.