There's alway OwnTracks. It's similar in privacy aims. Seems a bit more full featured too.

Hey @chillibenny, I got a reply from Bearologics and they're not going anywhere and said it should be working.
They provided this direct link which seems to work:
My Locative app updated to version 5 and broke my Locative Presence in Hubitat. Has this happened to anyone else? If so, were you able to get it working. The Locative app is still recognizing the exit/arrivals, but instead of completing successfully with a 200 response, I'm showing a red "No Response" on the notifications page.
I was able to to use the url's via a browser and my Locative Presence sensor changed as expected. So not sure what's malfunctioning with the new app.
Any help would be greatly appreciated.
It appears that the new v5 of Locative is defaulting to sending a bunch of data that Hubitat's MakerAPI a isn't going to handle very well. Unfortunately, the only way I have found to change this behavior to to pay to unlock the new "Request Designer" feature. Then you can create a new "Request" like the one below, and assign this to your Hubitat Geofence in Locative. I have tested this and it does seem to work without throwing the error.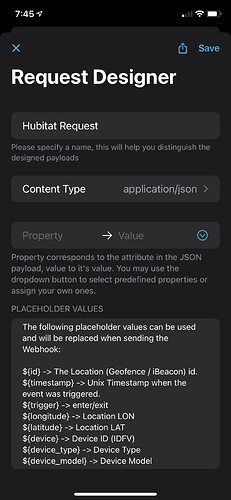 Thanks so much for your help. I set it up and said "Wait a minute, there's nothing there." I was going to reply to ask you for the details that should go into the property > value fields, but I thought that I'd give it a try before I bothered you and it actually worked without any property entries.
I wish v5 wouldn't have changed the default request with all the extra data, but at least this works. Thanks again, I would have never figured that out.
But it looks like I'll no longer be able to use Locative. It seems that the subscription isn't available via Family Sharing and I can't pay $28 a year to use it for my family.
Well, I haven't left home all day but I guess it's good to know that I need to redesign the location system. Who knows maybe the Hubitat app on iOS will be sensitive enough now.
I wish that were the case, but haven't found it to be.
There's always OwnTracks. Works phenomenally well, and @brianwilson has written a Hubitat integration for it.
Thanks, I'll start looking into that. I looked at it briefly when I was getting my hub set up, but I thought it was a method to track the location constantly vs just providing a geofence for leaving and arrival.
You can do both (or either).
Hmmmm... I just installed Locative for the first time on my wife's iPhone, and it did not prompt me to make any in-app purchases. I was able to create a new Request config on her phone without any issue. We are part of the same Apple Family. I did purchase the onetime lifetime option on my iPhone. Not sure if that makes a difference or not.
If you are using the same AppStore account that might be why. Wife and I do the same thing (before family sharing), but still have separate iMessage/iCloud accounts.
Perhaps the default payload could be sent to a modified version of my OwnTracks integration to get around paying for designer?
Hey there, developer of Locative here, first of all super sorry for the issues, this didn't surface during the public beta and was an unintentional change, could you let me know what exact properties are producing the issues?
Second the In-App Purchases are now family shareable, nobody should buy multiple just to share them with different devices in their family. And I'd like to also hand out free yearly subscriptions to everyone who's experiencing those issues, if you're experiencing the issue (and would like to continue using Locative of course), please send an email to hi@locative.app and you'll receive a code which you can redeem in the App (Info -> Redeem offer code).
Sorry again for the issue, I know breaking HA sucks :-/
Also, if you subscriubed to a subscription feel happy to cancel during and ask for a free Locative Pro code, if the trial als ready expired and you got billed already you can also use the code later and get an additional year for free.
O.O
Wow. I'm impressed at the level of customer service here. Joining an unrelated forum to ask for feedback, resolve an issue, and even offer a free year of service.
Honestly I thought locative was going to be an abandoned app, and always assumed the day would come when it no longer worked. Thanks for the update, and I'll happily subscribe for a few dollars to support the ongoing development.
Thank you very much, I'm using Locative myself and now how much it just disrupts if your workflow changes.
After investigation it looks like the actual issue was an issue with previous (4.x) Versions of Locative, the GET parameters should have always been sent but they weren't with old versions, so (ironically) it was basically working unintentionally back then. With v5 the networking stack was changed (now using the iOS native one) and thus the issue surfaced.
One more remedy for the issue could be to share a request design (Use the export-button in the App) and upload the .lrdesign file here or share it with your family member. Other can then open and import it and use it without having a subscription.
I am having trouble getting my geofence to "use" the new request config I've created. Tapping anywhere doesn't seem to make it take effect.
Also @marcus.kida I would find it useful if, when you get a chance, it were possible to send test events for a geofence. This would also come in handy when for one reason or another the request fails to send and we are inside the geofence but need to send the request to mend the automation state.
I don't use Locative. Just want to say that I'm so impressed with your integrity and customer support that I'm going to download it, and purchase a subscription.
@durable-navy-blue-ot after you saved it you should be able to select it using the "Select"-button. I prepared some screens but unfortunately I'm not allowed to share links or media here :-/
You can then confirm it's set up / being used a) on the Settings screen and b) on a specific Location (very bottom, should say your Request Design name in light gray-ish).
I'll add a way to test the request for single Locations as well, I've just added it to the list.
@aaiyar thank you very much for these kind words, I'm still very passionate about this project and I really enjoy working on it, using it myself and ultimately see others use it as well.
Oh I have it now. I didn't realize the word Select was a button and kept clicking into and out of the slide up to edit the request itself. Thank you!
More than earned a lifetime subscriber here. Cheers Marcus!