I have a powder room with a motion sensor, light, and fan. Using the motion lighting app, If the motion sensor is activated, the light turns on, and turns off after 5 minutes.
I'd like to enhance this to: if the fan is on, set the time out to 10 minutes. If either button is turned off, it turns both off.
IF (Motion)
THEN
	Turn on light
	IF (Fan is on)
	THEN	
		IF (Light or fan turns off)
		THEN Turn both off
		ELSE
			Turn both off delayed 10 minutes
	ELSE
		Turn light off delayed 5 mins

I made two attempts in rule machine and the motion lighting app, but I got closer in the rule machine. I selected fan or light is changed in triggers, but when I try to use that trigger in the actions, it only checks if the fan or light is on. Image below, the red circle is my problem.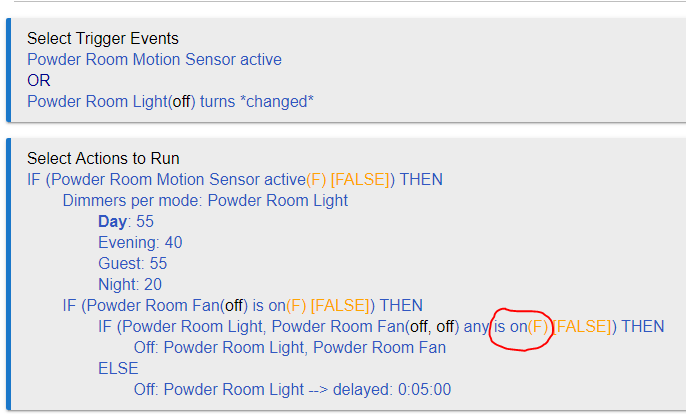 I don't know if the motion light is powerful enough to do what I want. I could only make it disable turning the light off when the fan turns on.