New to Hubitat coming over from SmartThings. It took a bit of head banging to figure out the exclude / include process but I have about 50 of my 60 devices migrated over. I have one light switch that seems to be a problem child and I could use some help.
I have a C7 Hub running 2.2.3.148
The switch in question is a GE/Jasco Enbrighten Z-Wave Plus Smart Light Switch Model 43072. It is installed adjacent to other similar z-wave switches that paired without a problem but it is refusing to cooperate.
Initially I excluded it via the ST App and that appeared to work correctly. I then attempted to Include it via HE. It brought up the security options, which I did not change and then the ID entry which I made, but after that it never showed up in the HE Device List.
I made a couple attempts to Exclude and reinclude it again via HE but it appeared non responsive. I ran a Z-Wave Repair, I rebooted HE, made a couple more attempts and still no joy.
After that I went into the Z-Wave Details screen and found the following entries but I don't know enough about Z-Wave under the hood to know if any of these entries are the switch in question.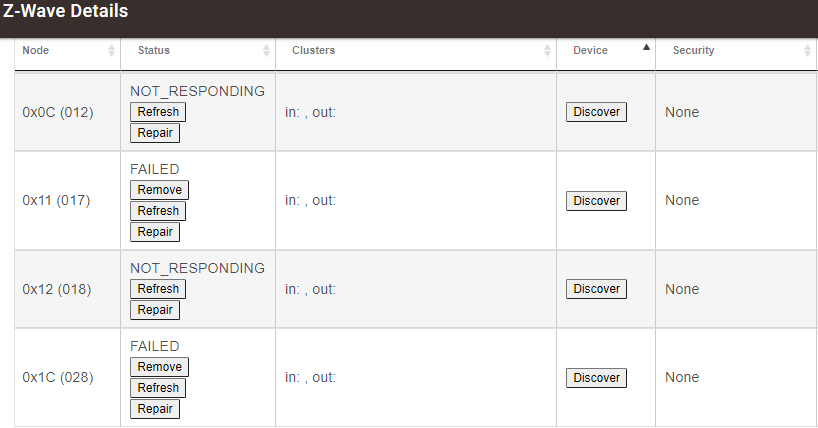 I tried the Remove, Refresh, and Repair options on each of these but that has no effect, the entries remain as is. I have attempted a couple different Factory Reset routines that I found here and on GE's site. I get no indication that the switch is resetting. Before resorting to strings of garlic and incantations I thought I would reach out to the community to see if anyone had a more reasonable approach.
Any advice or direction would be greatly appreciated!
Thanks!
Tom G.