Soon smartly will be releasing a mod with the ability to enable a color changing background based on a tiles value. This will be available for Temperature, Humidity, and Battery tiles at first. Below are samples as well as questions about what you would like to see in this upcoming mod.
Battery
Battery tiles will start out Green and then change to Yellow and then Red as they drain. There has been some debate about when color changes should occur. So we are opening that up to public input. Vote below!

When you do you think the color should change from Green to Yellow?
When do you think the color should change from Yellow to Red?
---
Humidity
Humidity color changes will occur every 5-10% points. Below is a chart of what it will look like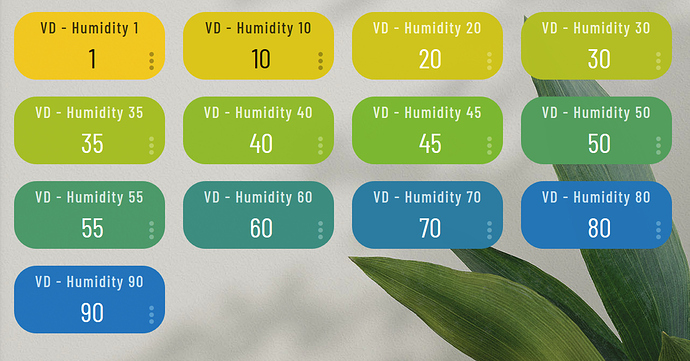 ---
Temperature
This has only been done for Fahrenheit. If anyone wants to help convert this to Celsius PM me.
BIG THANKS to @ulmeistern for helping us with this.
Celsius temperature chart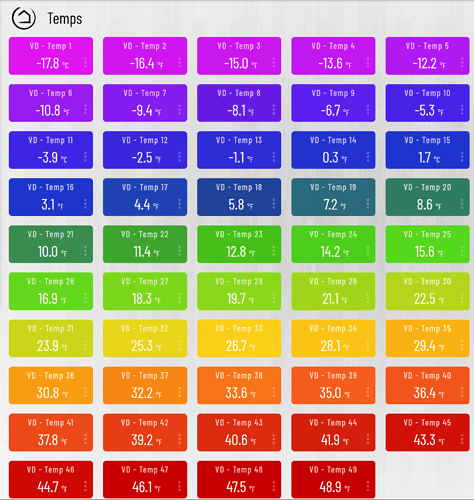 Fahrenheit temperature color chart
Sensor Reading Note - the coding for this is lengthy, and could only be done out to the tenth of a degree. If your sensors read to the hundredth it will need to be adjusted to work with this mod (see below). We recommend using @Cobra's Average All. This app will allow you to easily create a virtual sensor using only 1 decimal.
Far left sensor reading not supported.



I found a few post mentioning this/similar requests so @janzilverstone @anon61068208 @troper @JohnRob @peterbrown77.pb
Thanks to all for your support in smartly. We look forward to hearing your thoughts on this upcoming mod.