How are you getting the Storm Team 5 displays on your tiles? Doesn't look like a typical URL...
They are just links...working out great too. They update whenever the images change.
7-day forecast:
https://s3.amazonaws.com/htv-prod-media/images/dynamic/wcvb/WCVB_Extended_Forecast.jpg
Satellite:
https://hips.htvapps.com/htv-prod/images/dynamic/wcvb/WCVB_MidAtl_SatRad.jpg
Radar:
https://s3.amazonaws.com/htv-prod-media/images/dynamic/wcvb/WCVB_Doppler_NorthShore.jpg
Thank you! Exactly what I needed to know

. Now I need to track down the right images for my area...
I have missed something obvious here, but I see that some of you are referencing other dashboards from within a dashboard which I assume you click on to take you straight there.
I cannot seem to find how to do this.
Appreciate some guidance if possible.
Thanks.
EDIT: Ignore the above, just found it.
@bptworld How did you get your personal weather station working on dashboard? are you using a Bloomsky?
I use to have Bloomsky, it only lasted a year. I now have an AcuRite Pro Weather Center. Basically any station will work though. Doesn't even have to be yours. Just any station that's on Weather Underground. All you need is the station ID and a Virtual Device using the 'Custom WU Driver'.
Setup the device with your API key and then in the Zipcode/Location box put in the station id like this:


Then within HE Dashboard, use the attributes command to display whichever one you want.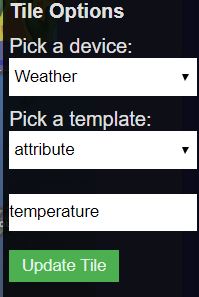 @patrick I am mostly using a modified SmartTiles dashboard. While I find the Hubitat dashboards useful, I mostly care about exceptions, especially at night and while on vacation:
What lights are on
What contacts are open
What is consuming power over X watts
What locks are unlocked
What device batteries are under X percent
I have SmartTiles using all 120+ devices on my hub and I modified the code to only show me devices that meet specific criteria. So really less than 10 devices usually show up on the dashboard and since it is interactive, I can turn off lights that shouldn't be on.
It would be great if you would consider such a feature in a future version of the Hubitat dashboard app. I would have used it if I had access to modify the source code
But given that tiles in the Hubitat dashboard are hard coded to X and Y coordinates, I understand this would be more complex to implement. But it would be nice if there was a filter in the tile options to designate whether to only show it if state equals or is greater/less than a certain value.
Very nice! Do you have any idea how I would find links for my particular area?
Thanks. All I did was go to my local news stations website and 'right click' on the maps provided. Then just copy the link. Every now and then the links might change but I just visit the website again and see what the new ones are. I've had pretty good luck though, a couple of the maps haven't change the link in years.
So I finally got around to migrationg from Actiontiles to the native dashboard yesterday. Another step (of many..) in my effort to unplug SmartThings forever.
I will play around with colors and tile placement a bit more. Right now it's pretty much the exactly same layout as for my old Actiontiles setup.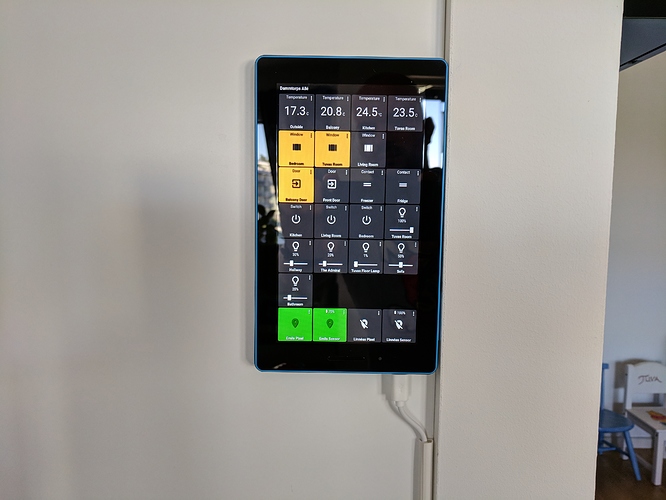 Is there a way to create a custom name for a "Button" that was created by Rooms Manager yet?
currently there does not seem to be a way to assign any button a name. once that works it should work for rooms manager as well.
Is there a way to remove the logo. The dashboard will look much cleaner without the logo in the middle, just my personal preference.
Kim
Is there an easy way to get a bulb template without a slider? I don't have any dimmers and find the slider distracting.
Yes, tried that. But a light bulb looks better
Just received a notification that my Hubitat has been delivered at home. The screenshots will come handy for ideas when I set it up. Keep up the good work folks.