C5 unit with version 2.2.3.119 running
No problems with it, zigbee or zwave network
Added a shelly 1 unit (running under 12V, static IP, set as toggle, no pwd).
Latest firmware 20210415-125832/v1.10.3-g23074d0
The native web interface runs ok (ON/OFF)
Added the shelly 1 into HE: built-in driver (Shelly WiFi Switch) with Generic Component Switch Child
Added a switch icon into dashboard, connected to the Shelly 1
When the switch is OFF, a press on the dashboard switch icon toggle the Shelly1 but the message is always as "sending". Any refresh of the dashboard doesn't change anything.
But the Shelly1 is still operational: I can toggle the unit through the native interface, AND, sometimes, from the dashboard (even still sending).
When switched ONLY from the Dashboard, I can't toggle it again. Still sending.
In case I'm not clear with my explanation:
Status OFF
(Dashboard) ON => ON
(Dasboard) OFF => nothing
Status OFF
(Dasboard) ON => ON
(web UI) OFF => OFF
(Dasboard) ON => ON
etc
Status ON
(Dashboard) OFF => nothing
(web UI) OFF => OFF
On the Shelly1 device info, whatever result
Current state:
numberOfButtons : 1
pushed : null
released : null
held : null
When I go to the child device, I can use both buttons (ON/OFF) but the status remains always as ON

For unknown reasons (???), the debug log disabled itself (???), when re-enabled, there is no info when the button is pushed ON or OFF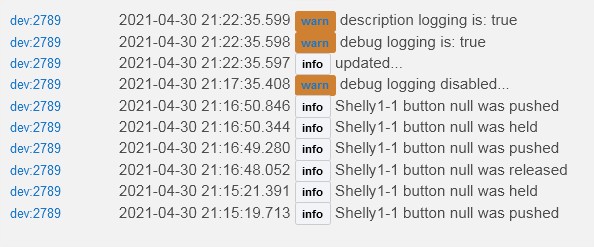 Any idea on this ?
Thank you
Update: uninstalled the built-in driver and installed the custom driver found here:
Works as expected, without problems. Will review it but seems ok