I set up a "Christmas lights" Rule to turn on a single Tadfri outlet 1/2 hr after sunset, and another rule to turn that same switch off at midnight.
Got exactly one log entry, and the lights were still on when I got up at 5:30am:
2020-12-07 01:45:37.289 pm errorjava.lang.NullPointerException: Cannot get property 'n' on null object on line 1476 (atCertainTime)
The rule at issue is simple - On: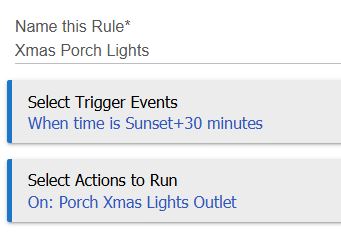 ...and Off:

The off-time setting of midnight, and the sole error being at 1:45pm means that the "off"rule died when created, but no visible error appeared when setting the rule up using the phone app.
How can this simplest of rule sets silently crash and burn and leave the user unaware that there is such as basic and catastrophic error as the classic "java.lang.NullPointerException" ?

How might one "debug" this?

What's property 'n'?

How could one have a null object, when this "program" was created by simply clicking on choices presented by the GUI?

What mechanism should have made the user aware that there was an issue here? This is not "Wife Acceptance Factor", this is now escalated to "HUSBAND Acceptance Factor".
"Elevated Home"? Can it turn off a single freakin' outlet without a 1/2 hour debugging session?