I recently started porting my automations from HomeKit to my Hubitat. Because I was tired of having to redo them every time I restarted homebridge (for some reason it would remap my devices and remove them from automations)
However I am now noticing that some automations aren't running. Maybe I am setting them up incorrectly, or maybe it's my devices that I am using.
I posted some images of my automations that I created that are failing to run, or failing to finish running (they will turn a device on, but won't turn it off after the delay period).
Anyone else run into this issue at all haha? Should I restore to factory and start fresh? I tried the shut down. Wait 30 minutes and then reboot as well since mostly all my devices are Zigbee. I don't have more than 15 devices.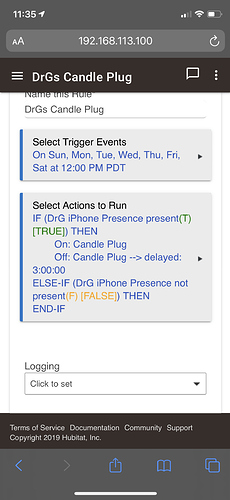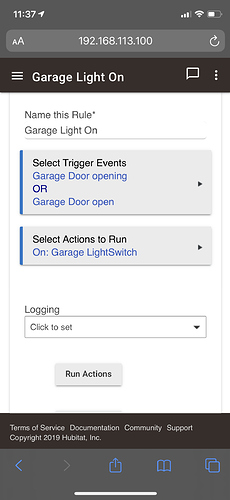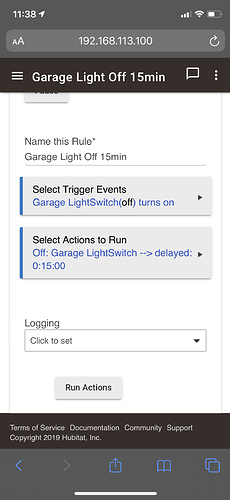 Parent child parameters
EzspGetParentChildParametersResponse [childCount=0, parentEui64=0000000000000000, parentNodeId=65535]
Child Data
Neighbor Table Entry
[Bathroom Fragrance Plug, 0670], LQI:255, age:3, inCost:1, outCost:3
[Candle Hot Plate, 1A32], LQI:255, age:3, inCost:1, outCost:1
[Candle Plug, 38C0], LQI:229, age:4, inCost:5, outCost:7
[Garage Door Plug, AB47], LQI:251, age:4, inCost:3, outCost:7
[HallwayRepater, C66F], LQI:255, age:3, inCost:1, outCost:1
[FrontRoom Plug, D4E8], LQI:196, age:7, inCost:7, outCost:0
Route Table Entry
status:Active, age:64, routeRecordState:0, concentratorType:None, [Candle Plug, 38C0] via [HallwayRepater, C66F]
status:Active, age:64, routeRecordState:0, concentratorType:None, [Garage LightSwitch, AC06] via [Candle Hot Plate, 1A32]
status:Active, age:64, routeRecordState:0, concentratorType:None, [Garage Door Sensor, 2B60] via [Candle Hot Plate, 1A32]
status:Active, age:64, routeRecordState:0, concentratorType:None, [DrGsRoom Sensor, 31FC] via [Candle Hot Plate, 1A32]
status:Unused
status:Unused
status:Unused
status:Unused
status:Unused
status:Unused
status:Unused
status:Unused
status:Unused
status:Unused
status:Unused
status:Unused