When I activated a "Room Lighting" app with "a lot" of devices on it, towards the end of it running, I saw:

Are those errors that "blew it up" so it didn't finish properly-or are they really just warnings? I'm seeing that even when it only has a few "unset" devices to command.
Next...
I have a couple RL apps that largely do opposing things to a number of lights (one turns lights on, the other off).
Both have "Select Indicator Use" to "Scene".
I had run the "On" RL app and got all the lights on and the Indicator switch popped on.
I then ran the "Off" RL app and got the lights all off. I saw the LOG say

Yet, the indicator switch for the "On" RL app is:

And, the off one is: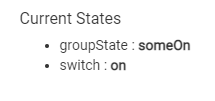 Am I reading things wrong? I expected the "indicator/activator" switch to turn itself off when the lights didn't match (as the log message seemed to indicate).
Oddly, with all of the RL devices off (per the Off RL App), when I did a "refresh" on all the devices, the "Off" indicator went to "Off' and the "On" one stayed on--yet the devices were 100% aligned with the "Off" app...and none matched the "On" RL App settings. It's not making a lot of sense how they are working.
So, trying again (after manually turning the "On" RL app's indicator off), when everything ends up properly set, I see log messages showing that the "indicator is on"...but the activator device isn't changing to match the log message (groupState=allOff, switch=off)
Options for the "on" RL app: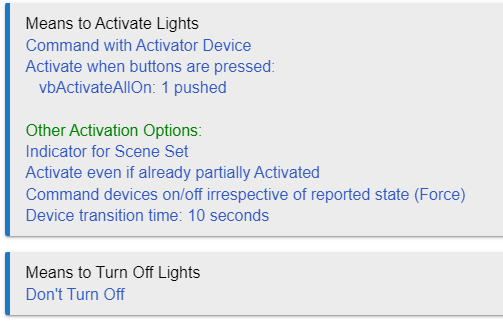 Options for the "Off" RL app:

I'm really just looking for something to tell me (accurately) if all the devices in the RL App "match" the "Activated" setting or not. I seem to be having better luck with the RL App that turns everything off (as it's activator switch seems to track more properly).
(note that I am please--the RL App does seem to be working MUCH better/more reliably overall than when it first came out!!)
Thanks,