I have a simple rule to send a message in case a water leak is detected. I would like to repeat the message every 10 minutes as long as the leak condition is present, or until 12 messages have been sent, whichever happens earlier. So I have "Repeat 12 times every 10 minutes (Stop)" in the actions for true.
The rule works as expected most of the time. But sometimes it gets stuck in a (false)(repeating) state after the leak condition is cleared. In this state it will continue to send messages every 10 minutes until 12 messages have been sent. This seems to happen only when the leak sensor changes state between wet and dry too close together (which might happen when wiping the sensor to dry it).
Here is a screenshot of the RM app in the incorrect state: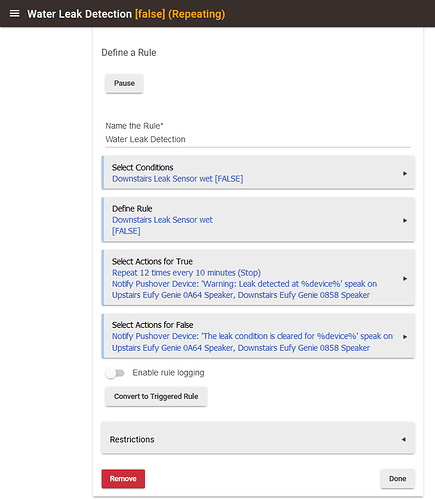 Here is the events page from the leak sensor. The RM app went to the incorrect state around 5:56:05 after several rapid state transitions in the sensor state. I could restore the app to the correct state at 06:33:25 by creating a single wet / dry transition.
Appreciate any help / tips to further debug this. Thanks!
Edit: I should add that I have the original C-4 hub on firmware version 2.0.4.118. The leak sensor is a Smartthings device using the Generic Zigbee Moisture Sensor driver.