I have a short RM 4.0 rule with a "wait for event" action. It got stuck on that wait or just dropped the wait altogether even though the event occurred. The rule:
I can rewrite this rule to avoid waits if they're unreliable, but that's not the point. First, here are full logs from just that rule, ending with the stuck wait: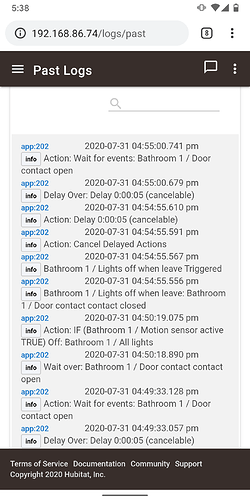 However, the contact was opened long before I took that screenshot. Here's the end of that time in context, with the contact-open event at the bottom:
That event triggered other things to happen (like the fan turning off and the hall lights turning on), but nothing at all from the rule in question. No other rules refer to this rule to cancel its actions, etc.
This problem is almost identical to the issue I described with all logging enabled here:
In both cases, different rules' action logging shows execution of a wait, then events that should have satisfied the waits' conditions, then nothing. It's as if waits are sometimes dropped or not being registered.
I'm on v2.2.2.129.