It's entirely possible that I'm still just not in the right frame of mind when I'm creating rules at this point, but I wanted to throw some feedback out there and see if I'm just being dumb, and if not, to hopefully provide some useful criticism as it relates to the UI!
I threw together a quick and simple rule here that simply checks for whether or not a door sensor is closed, and motion is inactive in one room. And if so, set a bunch of switches to Off.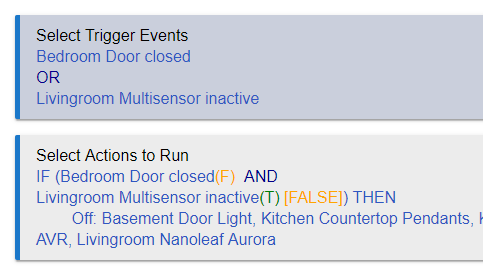 These two sections here are at-odds, conditionally. If my understanding is correct, "Select Trigger Events" is intended as a place for you (the user) to list out all possible events for the rule¹. At which point, you then define how they're used in "Select Actions to Run" (makes sense to me). But as you can see, I'm using a logical AND, but they're displayed in the top box as being in a logical OR. Presumably this is just a display inconsistency?
Note 1: Assuming my understanding is correct, having the ability to add a new condition during the action definition (below), seems out of place to me. If this is here, why have the select triggers and events at all?
Additionally, if I add a new condition here (below), the newly created condition doesn't show up in the "Select Trigger Events" box on the main rule screen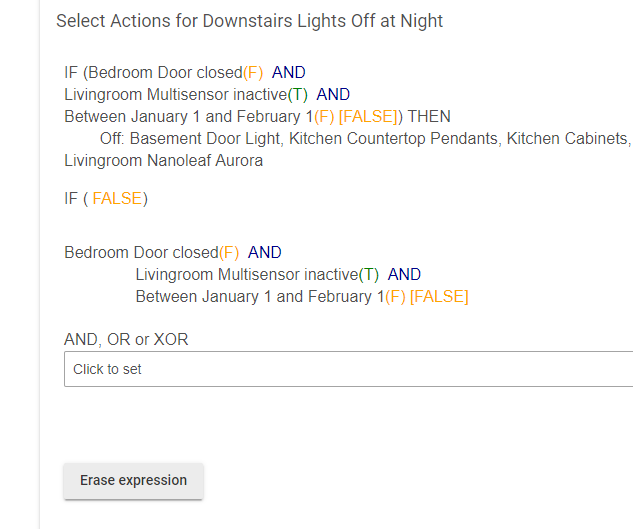 Note lack of date range condition in the trigger events
Stream of consciousness thought here, I suppose I understand the semantic distinction between a "Trigger Event" and a "Condition", but fundamentally, they're the same thing here, are they not? The condition is just one or many trigger events with logic, right?
Proposal
From a simplification perspective, the idea that I had addresses all of these.
The logical thought process might be to begin by thinking about what sensors/devices/etc are at play for the rule being created. All of these, with their desired state (eg: contact->closed) to be a list in "Trigger Events" (perhaps a rename of this box to "States, Triggers, and Events"). In my case my "States, Triggers, and Events" list would consist of [Bedroom Door: Closed, Multisensor: Inactive, Between Jan 1 and Feb 1]. A help question mark that describes what each are might be good as well.

The removal of OR in the current "Triggers and Events" box. I think functionally, this entire box should be nothing more than a list

The second box should be renamed to "Conditions and Actions" (since that's functionally what's happening there today). In there, the ability to add a "New Condition" during the actual conditional rule build out, needs to be fixed (see: removed). I say removed because the ability already exists to add sub conditions and negations - the part that actually needs to be removed is the ability to add additional "Trigger Events" (as they exist now) from that screen, which is what that option allows you to do.